With all the drama of yesterday slowly fading into obscurity, I figured it was about time I got round to some of this exploring lark I was so keen to do prior to being unceremoniously shown the door in Kayakoy. Having shook the last of the shakes off, I dolled up and strode out, in what I guessed to be the right direction, towards the centre of the centre.
Fethiye is stunning. It's quite difficult to justify exactly how beautiful it is without getting soppy, or sounding like I'm exagerating. To put it plainly, if I lived here, or saw this view everyday as of now for the rest of ever, I don't think I'd get bored. I wouldn't stop marvelling at how bloody pretty it is.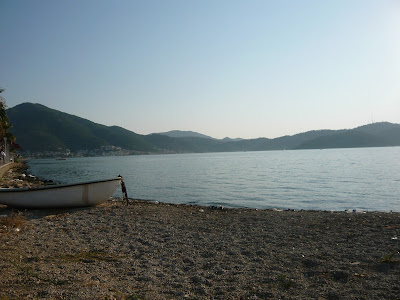 Fethiye bay.
York campus lake, eat your heart out.
It is a slight shame that I've come at a time of year when they're remodelling one area- the town square on the edge of the harbour. Though it hardly detracts from the beauty of the bay, it's quite an odd sensation walking along a gorgeous pier, busy looking out onto the Med, and finding yourself to have stumbled into a construction site, complete with bemused workmen who see straight through your attempts to look like you've ended up there on purpose. That aside, this has been my favourite place to go for a walk, anywhere, ever.
My paper rose!
I ate at a great restaurant overlooking the bay, Address. The staff were a touch overly attentive, but it was quite nice having someone to talk to. Travelling alone can get pretty quiet, and talking to myself in public just won't do. So the chatter was welcomed- even if they only wanted to list names of football players upon finding out I'm from Manchester. I got made a little tissue rose- for "being gorgeous" no less- and was asked to return to the restaurant after they'd all finished work, which I politely declined. My boyfriend would have been horrified, after all. I neglected to mention he doesn't exist, but that's irrelevant.
I've done more touristy things, mostly wandering around the old town looking at fabrics and spices and trinkets- I bought a gorgeous handwoven cushion- and headed back to the comfort of my air conditioned room while the sun was a its harshest. Then, a surprise visitor! Regina, of heroic fame, turned up unannounced. Delighted, we headed out for some chai, gossip, and a game of backgammon.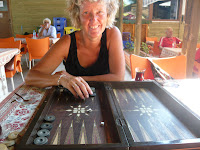 I suck at backgammon.
I've had the worlds longest shower, stocked up on Fanta, and have my outfit planned for the boat trip I've booked for tomorrow. Now I'm off to watch the sunset in a bar some place. I'm trying not to be smug, having seen all of your complaints about the weather in emails and on facebook/twitter, but it's really really hard. I'm not even sorry.