Today is the official day of recognition for women's achievements, rights and challenges globally. To celebrate, we've compiled a list of some of the best individual and groups of female minds in Britain that we believe deserve recognition for their work and successes over the last year.


CAITLIN MORAN
Her book "How To Be A Woman" shot this Times columnist into the book charts, and into the hearts of feminists everywhere. The book describes itself as a re-writing of "The Female Eunuch", and is possibly the wittiest ever rant on women's rightS and women themselves; Moran brought admitting to being a feminist out of the gutter and into the totally acceptable for women everywhere.
SLUTWALK
Though not technically a cause originating from the UK, The London SlutWalk saw thousands of women join with hundreds of thousands others from around the world to protest attitudes towards rape last year. A global event, it raised the awareness of sexual abuse victim's rights, and firmly shouted that victims of abuse aren't to blame for their treatment.
ADELE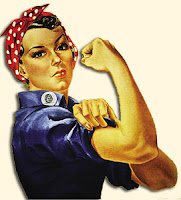 Turn on any radio station and chances are you're going to end up listening to the ballad-powerhouse that is Miss Adele Adkins. With topping charts and picking up more awards than she can carry becoming an average every-day task for the songstress, there doesn't seem to be much Adele can't do. By breaking the mould of high-polished high-energy pop music, she's stunned the world with her breath-taking vocals, and given the media something to think about when it comes to what your typical talented female should look like, too.
NICKY MOFFAT
One of the unsung heroes of British feminism this year- most likely because she isn't too keen on doling out interviews- is the highest ranking female in the British army. With an incredible career spanning 26 years, Moffat is tackling any inequality in the military from within, and encourages women to sign up to the British army, saying there's never been a better time for women to join.
GIRL GUIDES
The girl guides have been steadily rising in numbers and influence over the past year. Promoting women's rights campaigns has seemingly become another badge they can stitch onto their sashes, having been invited to advise at the UN Commission on Status of Women this month. Two British serving members of Guides will help develop international policies on gender equality at the global conference held in New York- a far cry from baking cookies and earning your washing-up badge.
That's just five British female stand out achievements- there are hundreds more influential and incredible women that have gained so much this year. From your grandmothers, to the head teacher of the primary school down the road, and from the female chairperson of the big company to the women Olympians. Happy International Women's Day!