There's been a little bit of a frenzy regarding boobs lately. Though I must admit I'm no expert, even in my role as boob-layperson I've been noticing a lot more attention on them in the last few weeks.
First of all, there's Royal boobs. Everyone's in a tizz about Kate Middleton's pair being on show. Personally, I'm a lot less interested in seeing them than the French and Italians (and Swedish and Irish, apparently) are.What has caught my attention is how the fuss that's surrounding Kate's chest doesn't even remotely compare to the fuss that kicked off not long ago about Prince Harry's-ahem- crown jewels being made a public pastime.
Really, what happened to Harry is worse, on paper at least. He genuinely was in private- a hotel room- and the picture really is of his privates. Yet Kate, in reach of a public road, had only her breasts on show. Yet it's her, not his, highness that is suing all relevant newspapers. And it's her, not him, that we're all feeling outraged for.

Perhaps it's because everyone's kind of come to expect it from Harry- the Royal family's answer to banter. Perhaps it because Kate was more hurt by the -cough- revelation. I sympathise with the pair of them equally- if not with Harry a little more. Imagine having to explain to your gran why your balls are on the front page of The Sun. That said, I'd be mortified if midway through a bikini change someone snapped a picture and whacked it onto Facebook- nevermind onto the front pages of French mags. No one wins, really.
Whatever the actions of either party are irrelevant. My point is, everyone is more upset for Kate than they were for Harry. Apparently, boobs are worse than balls.
Which leads me nicely onto this campaign.
No More Page Three is growing in popularity. With over 23,000 signatures on the petition and a crapload of Facebook/Twitter attention, it could very well be the beginning of the end of bare chests emblazoning the front pages. Sit up, The Star, take note Daily Sport. This time, we mean business.
In fact, people are getting quite angry about boobs all of a sudden. A tiny part of the feminist inside of me is a little defensive- hey guys, women's bodies aren't offensive, let's not get upset over them being proudly displayed- but the rest of the feminist inside is pretty excited.
Page Three's are normalising the objectification of women, and for a profit. While Ria, 21 from Essex, might have a lovely figure and a dazzling smile, I'm willing to bet she's also got an interesting opinion or two. She might even helpfully contribute to society in some way. But that's irrelevant, because she's attractive enough to make men hand over thirty pence.
It's a little pathetic really. All this outrage about publishing pictures of Kate Middleton topless, and a general acceptance of others having their tits splashed over the daily rags. I'm aware that there's a lot more to it that this- consent and privacy and the money being made out of it for starters- but we are all getting a little excited over nothing.
Think about it. If almost every woman has your standard two breasts, and the population of the world is split roughly into 50% for each gender (give or take the exceptions), then we're basically on more boobs than there are men in the world. We should all be used to them by now. It's not news that they exist, and if it is, then it's old news. And it certainly doesn't deserve a reservation on the third page of newspapers round the world, globally.
I think if we can all agree that 1) boobs aren't there as entertainment, 2) that they don't warrant daily publishing internationally on NEWSpapers, 3) that there'd still be plenty of things to talk about if we weren't talking about tits, then we'd all be a lot calmer. The Sun could find other, less offensive things to publish on p3. and Kate Middleton could get on with smiling and waving and having fabulous dress sense.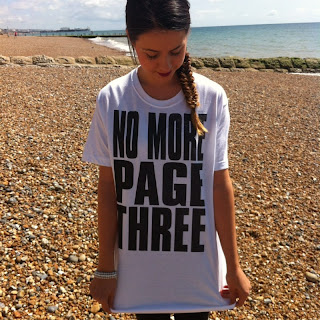 And for the people whose existences are going to be at a loss without a daily tit-fix, there's such a thing as porn. It's a little higher up the shelves at the newsagents, but I'm sure you can manage the reach.
You can sign the petition by clicking here.