Having promised myself a visit to the newly opened Malay restaurant upon reading of its opening
here
, I could barely contain my excitement when I eventually rocked up at York's latest Asian cuisine offering. And, thrillingly, my excitement was justified.
It was pretty quiet on the Wednesday evening when I arrived with my friend. There was no need to book, and we had a choice of the many available tables. There was a choice of a two course set priced menu at just £14.00, which we went for.  We students do have an eye for a good value bargain, after all.
As I was there with a friend who happened to have an incredible inside knowledge of the food- convincing someone who works a t a restaurant to eat there as a customer is no mean feat- I didn't bother reading the menu. I just asked him to pick out what he thought were the best meals, and sat back as he did the hard work for me.
My friend, the charming Ian Lau, talked me through the menu, translating where necessary, and recommending what he thought I'd like. Though the menu is pretty accessible for those of us who have never actually eaten real Malay food before- and would have no idea what Nasi Ayem is normally (I have possibly made that dish up, excuse me)- it was definitely to my advantage having an insider on the job.  That, and in the same way
Emma Bennett
who hails from Blackpool, the spiritual home of fish & chips, knows a damn good chippy when she sees one, Ian knew exactly which dishes were going to be the real thing.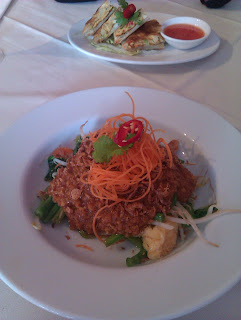 Gado Gado Salad & whatever Ian had…
I don't usually let people order for me in restaurants, my feminist urges squirm with rage if a guy tries assumes I can't manage the task for myself, but not wanting to ridicule myself with the pronunciation of the exotic but impossible sounding  delicacies, Ian kindly took the burden off me. Having avoided the embarrassment of trying to pronounce some of the more interestingly named dishes, me and Ian settled in a well needed and animated catch-up.
Our starters arrived shortly, and taste delicious. In fact, having been starving myself all day in preparation for this mega meal, I could have just about made out with the plate. They looked impressive, and though I'm not usually one for peanuts, I could have cried over the sauce, I was enjoying it that much. I had the Gado Gado sald, which for laypeople such as myself, basically translates to "get into my mouth oh my god". Ian had gone for a cool stuffed and layered fried pancake thing, which I can also reassure you tasted amazing. The salad was a considerably larger starter than Ian's, so I definitely got the better deal since I was famished.
I had been advised to order an extra side dish in order to qualify for the set priced menu, and stupidly went for Jasmine rice, despite ordering seafood Kuey Teow which is a wok-fried noodle dish. I love my rice as much as the next person, but there was just no need for both noodles and rice, so the small side bowl went untouched. Grumpy that I hadn't gone for prawn crackers, I swiftly moved on with my life when I tucked into my food. Again, delicious. My only complaint would be that my starter and main were fairly similar- but was fine by me seeing as I'd all but necked the first dish.
We lingered over our mains for a good long time; I pinched some of Ian's mind blowing extra hot beef Rendang, and we were left to it by the staff. After an hour or so, we surrendered what was left of our food and asked for the dessert menu. I'm not usually one for warm desserts, so when Ian ordered an odd green trifle thing, I had to wait for it to cool down before I could enjoy. The service was friendly and attentive- stopping to chat even when I could see they were busy and happy to make special kitchen requests on our behalf. While paying the bill I had a great time singing their praises on the comments card, and had a merry little chat with them.
I think I'll try to go for a meal with someone who knows the food inside out every time, as Ian did a marvellous job as Chief Recommender. 
Impressed and stuffed, we pootled our way off to the nearest bar to celebrate a good meal.