After a bit of an internal debate on whether it was fair to my other group members to blog about the Alpha Course, I have decided to keep going. I'm going to keep other group members anonymous as default, in case they don't want their beliefs and experiences published by some gob with a blog. Enjoy!
The routine is settled now; meet my friend at the tube station, walk chatting about our day to the illuminated church, pick up our dinner (shyly walk past the donation box…), navigate our way through the myriad of Alpha-ers (Alphites?), settle into our seats and munch away. We move to the stage area, where there'll be a talk, a song, a longer talk, then back to our groups to chat about it all.
The stage is a redesigned alter, with a drumkit set to one side and some seriously high-tech AV equipment, ready to show us this week's montage. Christian rock celeb Ben Cantelon is here to sing Amazing Grace in Week Two, and the 'congregation' is encouraged to sing along- the lyrics screened on a projector in front of us. A giant red question mark perches stage-left.
Week Two's talk is "Who is Jesus"- where Nicky Gumbell, Alpha  A-Lister, reasons that Jesus did exist, that he was a great man, and that he was the Son of God. His logic makes sense, to be fair. He talks of textual analysis, historical records, biblical prophecies come true. Quotes from CS Lewis are read out (not the Chronicles or Narnia, mind) and I'm feeling pretty content. I'm not convinced wholly, but the talk was engaging and insightful.
We trot back to our groups, where we have a discussion on the perception of Jesus today, and on the reality of miracles. I tell the group that miracles, to me, are astounding acts of humanity. I use the example of the feeding of the five thousand- where a little boy gave up his three fish so Jesus could do some shiny magic on them to share amongst everyone else. I make the point that the shiny magic part seems to be a nice embellishment, but the real miracle, the real thing worth celebrating, is the act of a boy giving away his food in a starving crowd. The group agree to differing extents, and conversation is stimulating, involved. I felt quite proud of myself, and retell my thoughts at work the next day. Week Two was fun, and I'm eager for the next session.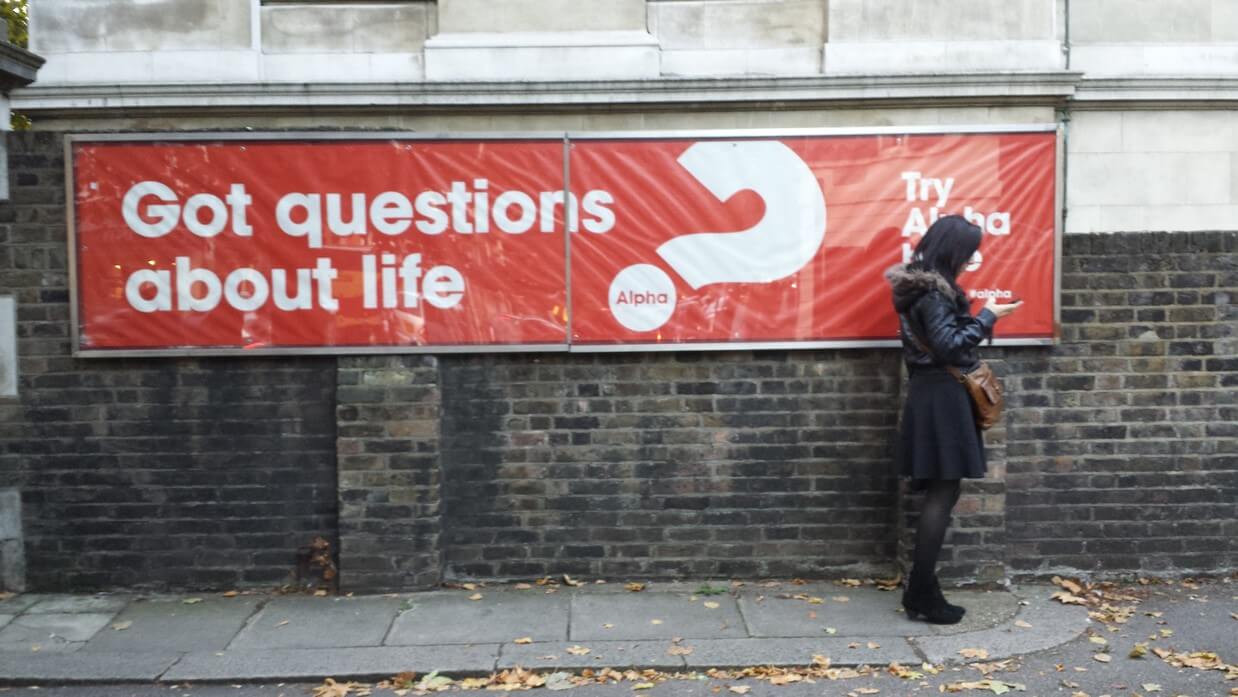 Week Three is different. The talk, "Why Did Jesus Die" by Toby Flint, kinda pisses me off. It's essentially about sin, and comparing ourselves to God, and receiving forgiveness. I'm disgruntled, and a little offended by the off-hand remarks made in poor taste. My friend disagrees, and I sat fidgeting in my seat. Even this week's song bugs me- something in the lyrics about unworthiness sticks in my mind.
The group session is a little more fiery this week. Our numbers have grown (which is unusual, groups tend to be whittled down as the weeks go on) and it's sometimes a struggle to hear what everyone is saying. I'm trying to process my anger into coherent thoughts, ready to bring to the table. Someone has already brought up the issue of sin as a concept- arbitrary and outdated. They reference homosexuality.
The atmosphere is a little stuck. No one wants to sound accusatory, and most sentences are hedged with phrases like "In those days". One person referenced the destruction of Sodom and Gomorrah- and was quickly accused of 'totally demonising homosexuality'. Later, someone else inferred 'the gays just want acceptance'.  Many people pointed out the significance of various 'sins', such as homosexuality and tattooing, have since radically culturally changed, and that the Bible was written by flawed people. I think the Christians felt a little attacked, and the athiests and agnostic a little hurt.
I was slightly offended, to be honest. I understand that it can be difficult to articulate yourself when talking about contentious issues, and not one person in that group could be described as homophobic, but the conversation left a bad taste in my mouth. It took me a while to stop feeling frustrated afterwards, and I decided not to return. I can't buy into something that requires you to consider yourself a sinner as an intrinsic part of your belief system- it's just so negative.
A few days later, having thrashed my thoughts out with a few friends, and even reading a passage of The Message (a version of the bible written in modern day English), I decide to go back. If this week's session upsets me or directly contradicts my basic values, I won't go again. The last session seemed tainted with a negative undertone, and feathers had clearly been ruffled. I write Week Three off, but it still lingers in the back of my mind.