"Sometimes I think I need a gimmick", says the grown man dressed as a dragon. Holding a chihuahua. Who is also dressed as a dragon. The irony sinks in, and the audience guffaw again. Welcome to Piff the Magic Dragon- bringing a touch of magic to the Harrogate Comedy Festival.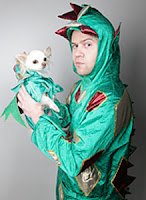 Securing his place as a cult favourite on Penn & Teller's Fool Us, Piff is the absolute last comedian-come-magician-come-dragon you'll lose in a crowd. Despite his bright and cheery outfit, Piff is anything but a happy dragon. He's broke, divorced, and his only source of income is Mr Piffles, his slightly less than magical glamorous assistant.
When Piff pulls up a member of the audience to inflict some magic upon, he swiftly falls in love with her and decides he must find out if she is a true princess- via all the usual routes. Does the boot fit? Is she sensitive enough to sense a pea? Can she guess Mr Piffles' real name?
The show is quite unlike any other. Think a younger Jack Dee in a dragon costume, and with the ability to sneeze fireworks. The entire show is based on anticlimax- thrillingly so. You never quite know whether the tiny dog in a dragon outfit is genuinely about to be shot out of a cannon, or whether there's another punchline on its way.
The magic tricks were definitely a personal highlight for me- and were brilliantly set up. For instance, in handing a random member of the audience a giant box, he casually remarked that he was sure "it probably holds no relevance to the rest of the show, so you needn't worry".
My only minor criticism of the night would be that the magic/comedy balance was slightly off. As a comedian, Piff is great- with excellent timing, good audience banter and some cracking one liners. Yet, short of pretty cool Mr Piffles tricks- one disappearing dog in particular which was very impressive- and a handful of card tricks, there wasn't as much magic as I would have liked.
Mr Piffles, the bored looking chihuahua, makes a fabulous glamorous assistant. Allowing himself to be laminated, shot out of cannons, and forced to moonwalk (Piff declares him as "Putting the RSPCA into "Call the RSPCA!!")- he earns his treats by performing adorably.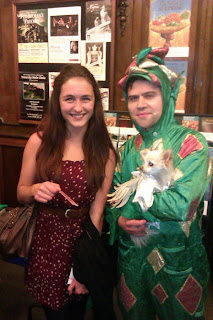 With a whole host of dragon puns up his sleeve (not to mention the finger puppets or phone aerials), a cheating ex-wife who lives in his briefcase, and a broken heart- all this dragon needs is a hug and a round of applause- which he'll certainly manage to get at his forthcoming shows.
A night with Piff is an unusual night- how often can you say you've seen a real-life adult dragon make his chihuahua levitate, after all? The show is cute, funny and deadpan. Wonderful stuff.
The Harrogate Comedy Festival continues at Harrogate Theatre throughout October



Originally published on The Yorker, Oct 13th '12, here.