Always one for heat, this Caribbean curry recipe will blow your socks off, and is a great way to try something a little fiery than a pad thai with prawns. This recipe is adapted from Atul Kochar's Grilled Prawn Skewer with Caribbean Curry recipe (his book is a blessing from the spice gods).
Adapted to suit my slightly limited kitchen stocks (who has skewers lying around anyways?), give it a go if you fancy a heat powerhouse with a fruity edge.
Ingredients:
For grillin':Large raw prawns, green pepper (chopped chunky) and red onion (chopped chunky too!)
For the marinade: Red or green chilli (finely chopped), tsp smoked paprika, tsp chopped thyme, two large cloves crushed garlic, tsp pepper, chopped fresh coriander, tsp ground coriander, and the squeeeeezes of half a lime.
For the sauce: Finely chopped onion, 300ml coconut milk, fennel seeds,tsp ginger (Atul says fresh, Sainsbury's says sold out), a fine Caribbean powder (I used Suya, Atul uses Caribbean Curry Powder), 12 halved cherry tomatoes, and handful of torn coriander, salt, and chillis (Atul reckons half a Scotch Bonnet, my Sainsbury's didn't have that so I used 2 bird's eye chillis).
Rice and lime to serve.
Stick all your marinade ingredients in a bowl and mush up. I actually think blending this stuff wouldn't hurt, but I just went at it with a spoon and it turned out good. Throw your prawns in and let marinade- Atul says for minimum 30 minutes.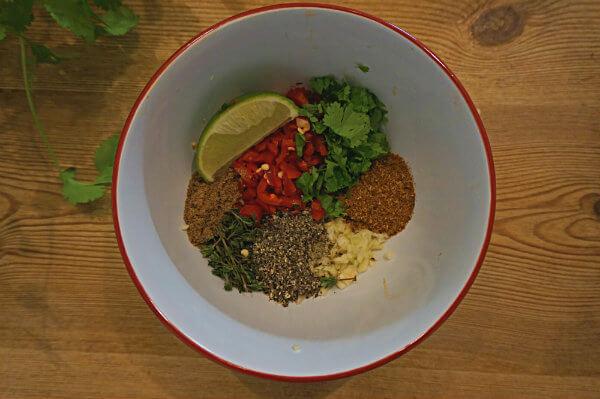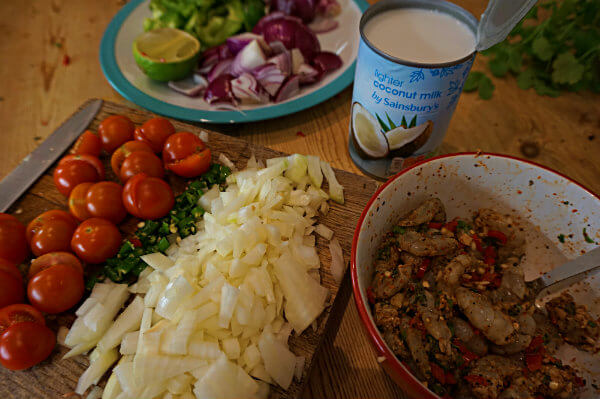 Chop the peppers, onions, tomatoes, and chilli. Get the rice on. Glug some oil into a pan and fry the fennel seeds for a few seconds. Add the onion and ginger and cook through. Pour in coconut milk, chilli, Suya (or Caribbean Curry Powder!) and simmer away. When it's starting to thicken up a little, add in the tomatoes and coriander, and salt to taste. Have it on a mid-high heat without a lid to speed up the thickening process.It's done when the tomatoes get all frail and squishy, and the sauce colour darkens.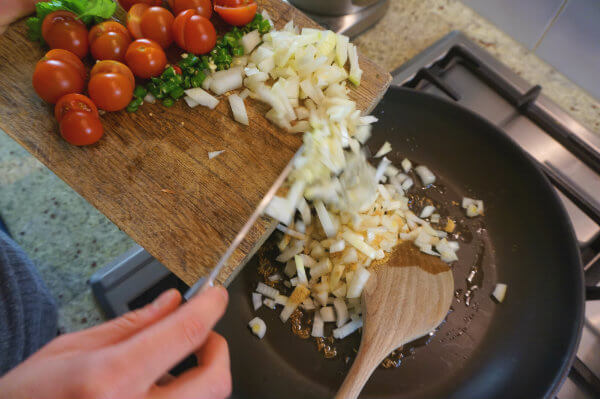 While that's all kicking off, put your prawns, pepper and red onion under the hot grill with a good glug of oil over it. Atul uses skewers and a barbecue for this bit, but my Putney flat doesn't stretch to a garden, nevermind a charcoal grill, so I sacked that bit off.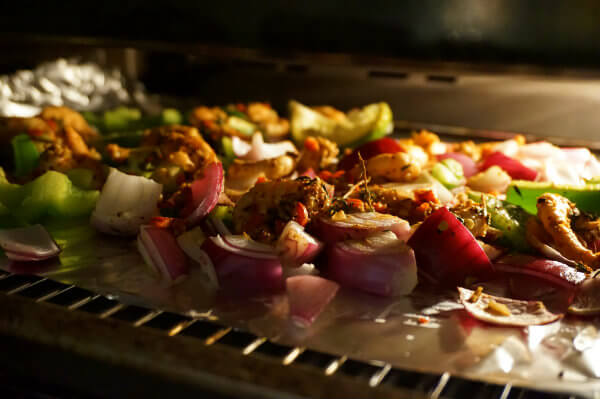 Pour a quick G&T/ BrewDog Punk IPA and plate up! Beside the marinading and chopping, this should only take as long as your rice needs for cooking. Get your ducks in a row first and it'd be a super quick tea.
If you're not so hot on the spice, dial down the chilli in the sauce- maybe just use a green chilli rather than finger, birds eye or Scotch Bonnet (the most merciless of peppers). Enjoy- and let me know what you think of my first little foodie video!