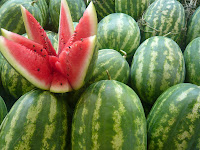 Tuesday is Market Day in Fethiye. I love markets; they're the most exciting way to see a town in action. People arguing about that extra couple of pounds. Stallholders competing for custom by shouting out the prices of their products, money being exchanged, flurries of colour and smells and sounds. Everyone seems to be having fun. Bartering, haggling and heckling. Handfuls of spices, sheaths of fabrics. Handmade trinkets and "Off-The-Lorry" pots and pans. Ugh, I love it. So much so that I resent shopping anywhere but markets when I'm abroad.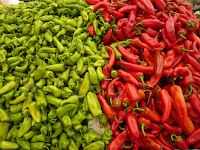 Up early (to catch the worms), I zipped into the market area to immerse myself in it all. I'd been saving my lira for today,  and was prepared to spend every last penny. First buy was a handful of peaches from the food bit, to keep me going through the beating heat and rush of the day. 


Okay. I'd never ever normally do a fashion related post. Seeing as everything I own is from H&M, you'd be better off browsing their website than having a look at which t-shirt&jeans/skirt combo I've gone for today. But I'm riding on a bit of a high right now, so you'll have to excuse me. And with all due respect to H&M, I don't think they've ever designed a pair of trousers as exciting as the ones I've just bought. Plus, in my defence, I'm not sure this counts as fashion.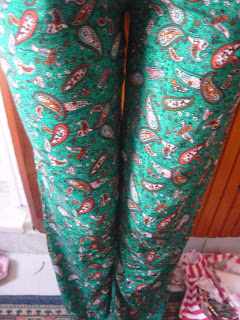 Paisley! Green! With red bits!
Not sure when I plan on wearing them- they might raise a few eyebrows in a syntax lecture- but how could anyone feasibly resist a pair of trousers like this? (Don't answer that, please. I love them too much.) Even the guy selling them couldn't quite believe my delight at finding these treasures. They remind me a little of the Peru-pants Max Wartelle and Sam Graham came back wearing from South America this time three(?!) years ago. Utterly useless aesthetically, but wholly lovable. 

More, ahem, conservative buys included a pair of coral pink shoes, a hipster tie-die dress that I'm going to get Nana Kelly to alter, and another handmade cushion cover. A few hours later, I rushed back and bought the same pair of shoes in a different colour. I had honestly intended on buying souvenirs for my loved ones, but I got swept up in the paisley-green excitement of the day and forgot about my nearest and dearest. Sorry mum. Sorry friends. You get to see me dressed in those badboys as a booby-prize.