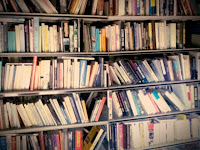 Working in a book shop is, in many ways, an ideal job for me. I get to spend time rummaging through boxes of travel guides and novels, I get to scale ceiling-height shelves looking for signed anthologies, I get to have that gorgeous smell of books surrounding me. Basically, I can spend my entire working day nerding out without anyone judging me.
But there is one thing. Working with 20,000 books is playing havoc with how I view the world.
In one way, my faith in hardcopy reading (and therefore humanity) is deepened. I'm stirred into a fuzzy feeling when I see the sheer volume of books that are ordered everyday. Someone, somewhere, is really looking forward to getting that first edition children's book. A book that was printed in Milan, lent in libraries in Sao Paulo, and packed up in a barn in south of France, is now winging its way to Susan in Dorset. Removing bookmarks from well-thumbed novels, reading annotations from people's close studies. The romantic in me is having an absolute field day.
On the other hand, I've realised how crazy people are. Utterly, utterly batshit. People will read anything.
But before I tirade about this, a disclaimer; I hate that snobbery that inhabits people's opinions of literature. You know, how anytime a novel gets a film adaptation, everyone's knickers automatically twist and we all splutter about it not doing the book justice. Or whenever something that The Independent didn't review gets popular, and everyone guards their precious Waterstones loyalty cards like Twihards are going to soil all the "real" literature in the world. Let's just man up about books- people like to read, and are entertained by different things. Get over it. You have more important things to troll than a Fifty Shades of Grey Facebook page.
So I'm really really not being snobby about this. This is unadulterated astonishment.
Yesterday I catalogued a book by a German woman from the seventies, talking about her drawings of cats. Seriously. That's it. Not only does the book exist- and just think what that entails; someone thought the idea of the book sounded neat, someone WROTE that book, and someone else went out and PAID MONEY for it- but the thing is selling for about £20.
It's even stranger when you have to examine these books closer. Think no one would be interested in 700 recipes that solely rely on the use of a microwave? Think again, there's four editions of that bad boy. Couldn't possibly foresee a situation in which someone would want to update a guide to behavioural habits of German Shepards? Wrong. Volume four, now available in shops near you.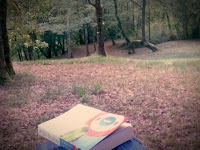 The one that really hurt my feelings, though, was the catchily titled "Mathematics in Fun and Earnest" . I swear to God. Google it right now. If anything was going to put a dampener on my definition of fun (and earnest…), it's this book.
Now I know that seeing as anyone is allowed to write books, about anything they want, there is a LOT of crap out there. There's not much I can (or would) do about it. But this really was taking the biscuit. I can't think of anything worse than having to read that book. As Emma Bennett once eloquently put it, "I'd rather sick up a chip". I calmly put the book back onto its pile, and tried to hold back the rush of sheer disgust.
My main rule for travelling has been to always overestimate how many books you'll need. The extra weight in my suitcase will be worth it- I don't want to end up reading taxi leaflets again like on my last day in Turkey, with seven hours to spare at the airport. But just knowing this Mathematics in Fun and Earnest exists has cemented for me what was already core advice. In no circumstances do I want to be left with a choice of MIF&E or staring blankly at an airport wall for seven hours. I honestly don't know which I'd choose.
"For the traveller"