I have an addiction. It's a little pathetic, and I've got a feeling my friends are planning an intervention some time soon. *deep breath* I'm Farrah Kelly, and I read fashion blogs.
It might not seem that exciting- a twenty year old female blogger reads fashion blogs- but this is so out of character for me, that I can't actually justify the obsession to myself. I don't like fashion. I wear the same outfit three days in a row before I worry if anyone's noticed. Half of my clothes are leached from my friends or mums wardrobe.I only go into Topshop when using it as a shortcut to the other side of town.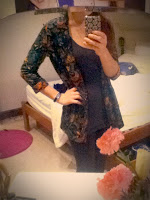 The beautiful blazer
If you think "addiction" or "obsession" is too much of an overstatement, then I can assure you I'm not exaggerating. I downloaded Instagram for the sole intention of following two of my favourite fashion bloggers. It's basically an app that streams their lives to my phone. I watch all their livestream shows, I delve deep into their archives and check their #OOTD/#WIWT's daily. It's even beginning to match my Corrie compulsions.
The thrust of my new obsession reached new heights last weekend. I spent £200 on clothes. That's the most I've ever spent on something that wasn't a holiday, rent or my phone bill. I don't know what came over me, or who I thought I was. I was in a fashion-blogger-frenzy, getting emotionally attached to jumpers within a heartbeat. I'm broke, but I didn't give a second thought to my battered debit card.
I realised how ridiculous I was becoming when I was shopping with my sister last week. There I was, unassuming in River Island, and our eyes met across the room. It was the same blazer as
LLYMLRS
's. I had to have it. I practically sprinted to the last size six, and ran shouting "shut up and take my money" to the bored cashier, who wasn't interested in my breathless recount of why this blazer was so fabulous.
I'm not really sure where to go from here. I'm still not interested in fashion, and my bank balance is back to feeling sorry for itself after a brief lull of happiness. I'll probably just sit and think about how much money I spent, surrounded by all these clothes I didn't need but really, really wanted.
Anyone who's actually seen me get ready in the morning will be scoffing at the idea of me doing a fashion blog post. Anyone who reads this blog normally will be confused as to why I'm talking about clothes. I'm sorry. It won't happen again.