When Ox Pasture Hall Hotel invited me to stay I was in deep, desperate need of some countryside. It also nicely coincided with my boyfriend and I's second year anniversary, giving me another excuse to go running into the welcoming arms of this gorgeous country manor.
Just out of Scarborough, Ox Pasture Hall is tucked away from the coast in those perfect, autumnal Yorkshire settings. No flashing signs, no roaring main roads. The only noise was the laughter from the bar and the occasional rowdy cow (literal cows, not a brassy woman). We arrived just as the sun started to dim, and as the wind whipped round us (we are on the coast, after all), the glow of the hotel looked picture-perfect welcoming. Gah, this is exactly what you want from a Yorkshire getaway.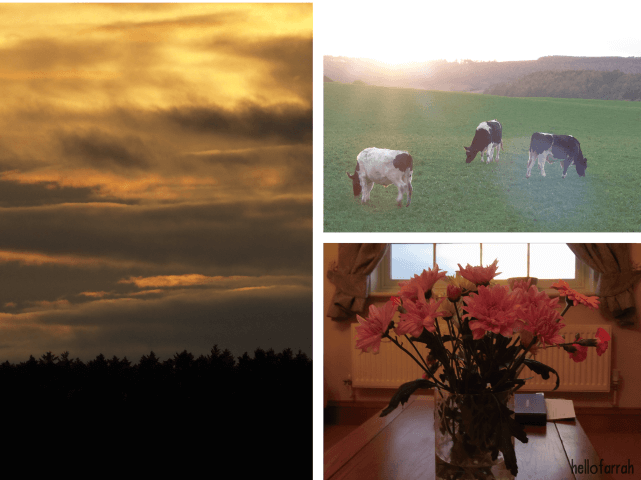 After dumping our bags and the obligatory jumping on beds, we pottered around the grounds and said hello to the cows. The grounds were my favourite thing about the hotel- I love scouting out all the cool little touches and going on mini-expeditions in the immediate area to build up an appetite and get some of that fresh air stuff in my lungs. You're set in absolutely gorgeous surroundings, so if you go (and you should), take a camera and a pair of sturdy shoes!
The hotel itself is an old country house, filled with log fires, thick comfy couches and, of course, that famous Yorkshire hospitality. The staff were impeccable- we were treated like royalty from the minute we walked in. Makes a change from being sneered at by Londoners all day!
Our room was ENORMOUS. We'd been put into a suite, so had two king size bedrooms to choose from. After ip-dip-do we settled on a the slightly smaller one for the sole reason that it was slightly further away from our noisy cow-neighbours(!). We were in the newer building, which was lovely but didn't quite have the same feel as the more earthy charm of the older parts of the building, but did have the added bonus of getting a great seat for sunset.
We booked into the restaurant, skipping Scarborough's best fish and chips for what turned out to be one hell of a dinner. A four course lesson in proper Yorkshire Masterchef-level food, we were blown away by the quality of food (and service!). I had a carrot and coriander soup, the duck confit salad, the lamb, and the lemon assiette, washed down with the silkiest Carmenere ever. They looked fantastic, and judging by the sounds coming from our table, tasted gorgeous. I mean, just look at their menu. Both Jonathan and I needed a good lying down after all that, so crawled back to our room and into bed, ready for the best night sleep, literally ever.
In the morning, we walked the wonderfully named Dog Bark Bend route through the North Yorkshire Moors, stopping for a cheeky selfie and to stroke passing pets-on-walkies.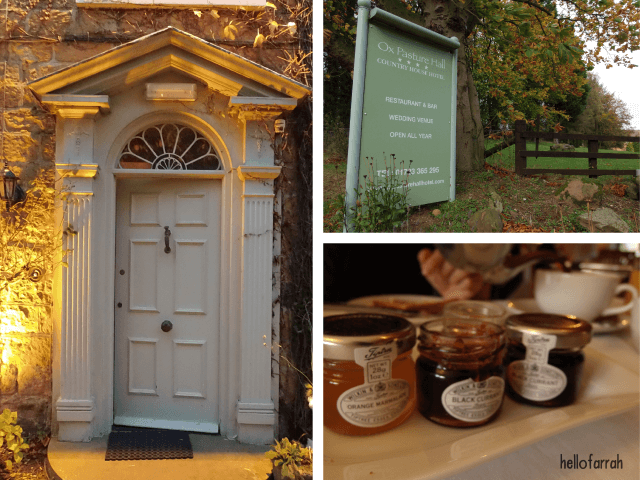 When I used to think of Scarborough, I thought of those tacky seaside resorts that the British just can't help loving. Ox Pasture Hall couldn't be further from that stereotype- it's a warm, hearty bit of luxury. I'd absolutely recommend it, especially for a romantic weekend getaway. Hey- they even do weddings- so if you're marriage-inclined it'd be a really, really cute place to tie those knots.
Have a poke through their website, and if you're looking for a country break, do yourself a favour and book in here.