So I've ambitiously entered this:
The chances of me being even shortlisted are slim considering the massive amount of excellent competition, but ever the optimist, I thought I'd give it a go. So go and nominate me! (Looking at you, mum). Who knows, the rejection letter they eventually send me might even contain some useful feedback!

Also, I'd like to quickly explain what I've been doing with my life lately. It consists of not very much, as per, but I have been up to some slightly more notable things. I've been elected The Yorker's lifestyle editor, taking over from the lovely Laura! It's a big job, and I cannot wait to see what I can do with the section- I already have some great ideas & content lined up. If anyone would like to join me in my mission to make Yorker Lifestyle the best website ON THE INTERNET then that would be awesome and definitely send me an email.
I've also recently written a guest post for
TheFWord
on sexual harassment in the young. You can find the link
here
, and I'd like to humbly thank theFword people (once again) for letting me write on a topic so important.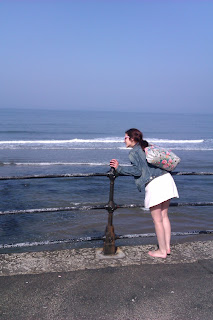 Things I did instead of revision: Went to the beach!
I've also finished those pesky exams that have been getting in the way of all the important things I've been doing- I can proudly say that I will never in my life draw another syntactic tree. Not once. Not even if you held me at gunpoint. I'd rather sit alone in the dark than ever have to consider what triggers uninterpretable features on a verb to move (or something) again. 
And lastly, I've been frolicking up and down the country on trains again. I've visited Newcastle (
again
) for Evolution Festival (expect a review soon) and I've visited the University of Oxford (and was witness to the most hardcore drinking session I've ever seen- review to follow). All good fun, but I'm back home in York now, and will be until next month.
I'll shut up now, so apologies again for the selfless self-promotion. I'll work on being less pathetic in time for my next blog.