Having trekked up a cruel amount of dusty steps to get the the peak of Montjuic, Barcelona's home to museums, viewpoints and the old Olympic site, there was no way on earth you could tempt me and Beth to hike back down again.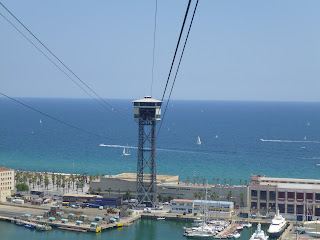 Thankfully, we didn't have to set up camp there for the indefinite future, as the nice folks at Montjuic provide a handy little cable car service.
There are two cablecar routes; one around the massive Montjuic itself, and one that acts as a courier between the peak of the hill, overlooking the Med, and Barceloneta beach. They depart from different points, so double check you're getting onto the right route. We opted for the Barceloneta route, because otherwise we would have never made it down the hill again.
Before…
The views are just gorgeous. As you're hovering over the ports, you're treated to panoramic views of the city. On a clear day (-though is any day unclear in BCN?), you can see for miles. It's such a lovely feeling, swooping (slightly faster than imagined) over the city, spotting the landmarks and pointing out your hotel. What a cool alternative way to see the city.
During…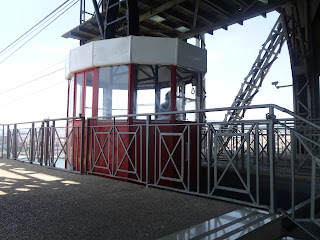 Depending on your route and whether you want a round trip, tickets cost between 10-17 euro, our one-way to Barceloneta was 11 euro. It's a little steep (no pun intended) if you're on a mega budget, as the whole journey lasts around ten minutes one way, but for the most part I'd say it's worth it. How often do you get to float above a beautiful city, after all?
After!