After a particularly hairy week on the Alpha course, which I blogged here, I decided to go back. I glossed over my reasons in that particular blog post- partially because it was getting excessively long, but also because I had an episode of Breaking Bad that needed urgent attention.
So why did I go back? Why would I voluntarily put myself through another session of feeling vaguely offended and wound up? This is evidently not a place for an achingly liberal athiest. The free food was surely not worth the incandescent rage that followed, so I must have had another reason.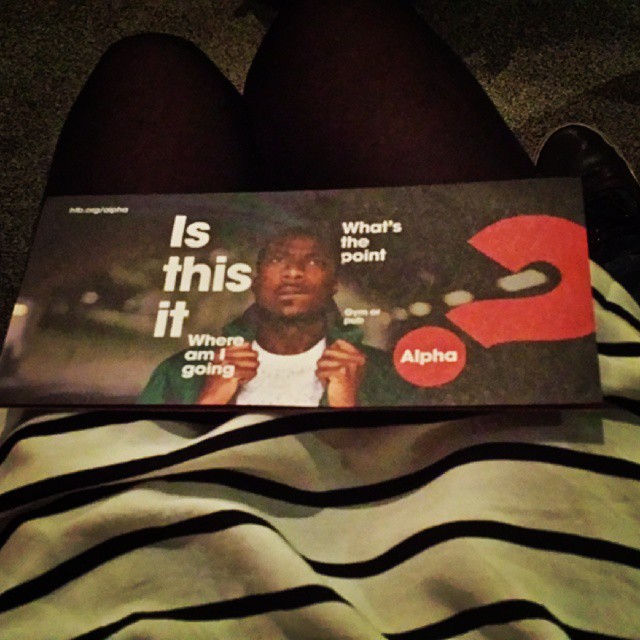 To be honest, I was intrigued to see how the next session would recoup. I was almost challenging Alpha to come back fighting: either give me a definitive reason to quit, or to make it up to me. I'd become invested in the course, and (cheese alert) I was enjoying learning.
You see, I went to a Catholic primary school, where the leading memory of religion was having an emotional breakdown in front of a priest, aged eleven, when I couldn't think of anything suitable to say for my first confession. I also went to a Catholic secondary school, where the leading memory of religion was the fact that my RE teacher told us she couldn't spell "crucifixion". Other than those two stand out moments, I'm pretty ill-educated when it comes to what Christians believe.
Alpha had started to prick my interest in having faith. Though my personal beliefs are unchanged, I now feel like I actually get it. The logic, the personal experiences, the trust in there being more to life than squabbling amongst ourselves and acapella Beyonce megamixes. The mechanics of faith make sense now. I'm still athiest, or whatever, but something clicked.
Previous to this course, whenever people told me they had a faith I treated it with as much understanding as if they'd told me they had a degree in neuro-astrology. With a respect for their experiences, but no knowledge of a) what was involved, b) how you got started in something like that  or c) how that would help you in daily life.
I'm still no expert, and I'm still far too silly to get involved in argumentative debates about God. But I'm still mystified by certain bits of religious zealousness- watch this space for my speaking in tongues special (yes really)- and I'm still baffled by people who are dead certain of one thing or another. More because I can't decide between poached or fried eggs, nevermind God or no God.