I'd been in Turkey less than an hour and I was already at risk of ending up stuck at the airport.
I'd watched my luggage going round the little carasoul twice before realsing it was mine, and was too busy being disapproving of two drunk girls who were creating a little scene at the other end of the arrivals lounge to pick it up the third time. Hardly a disaster, but I'd let myself get stressed out and annoyed by all the other people who were legitimately waiting for their bags in the most frustrating fashion possible- including loudly exclaiming that they wouldnt recognise their bags in any case. Is that irony? I'm not sure, but it did feel stupid.
More importantly though,was how I intended in getting from the airport to where I was staying. Kayakoy is a tiny village of Fethiye- a good 45km from the airport. I'd booked transfers online and was armed with my documents and proof of purchases (including reinforcemnts, courtesy of Nana Kelly). I was therefore slightly distraught to find that the transfer company had no record of my booking, and wouldn't be willing to take me to my destination. I was told to wait while they tried to solve the problem. A kindly Irish tour guide took some pity on my lonely state and kept me company- she chatted cheerfully about how I needn't worry too much, she'd seen worse happen to nicer people. Thanks, I think…
Thirty minutes later, after being peered at by a range of taxi drivers and having my receipts passed around a group of uniformed Turkish guides, I was asked to confirm the address, because apparently the one I had supplied (and had taken straight from the hotel website) didn't exist. Which was reassuring.
The guide informed me that as I had booked through an indirect site-Travel Republic- the address had been accepted. However, this particular company did not go to the small village of Kayakoy as it was too obscure , so though I'd booked with them, the transaction had never been authorised. Which was great news- and the image of me standing at the side of the road with my thumb stuck out lodged permanently in my mind's eye.
A compromise they were willing to make- which I thought generous seeing as they weren't being paid and had no moral obligation to help me out- was to drive me to a taxi rank in Fethiye, where the local firm would then look after me. I was passed around Turkey not entirely unlike cargo, eventually to the safety of my hotel.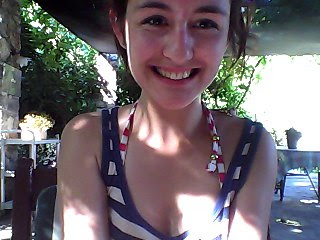 safe & in the right place. woo!
Turkish drivers are very different. They have no reliance on cats eyes to help them navigate the dangerously stwisting roads- just their own pair. Nor do they have any qualms in using their phones- they're all calling each other, presumably, to let them know that they're driving. I have never been in a taxi in England where the driver has made a sudden U-turn back to the rank in order to pick up his sister. But, I suppose, this is all part of the adventure. What's probably more bizarre is although the second driver knew only a very basic amount of English, he knew every word of LMFAO's album "Sorry for Party Rocking". Which I guess is the important stuff.