I'm not sure if I've mentioned it, but I've had a pretty eventful summer. 
I've jumped into ice cold lakes, been to a rave, cleaned and emptied an entire house, been kicked out of a hotel, scaled rockfaces and bookshelves, defrosted my first freezer, been a translator, gotten lost, made unlikely friends, eaten a steak at 10pm covered in mud, moved house again, read approximately one thousand books, written approximately ten thousand articles and blogs, dived into the Med, almost been kidnapped a couple of times, stargazed listening to Czech folk music, slept in tents and cars and mansions and left my teenage years behind me. And that's just some of the stuff I was sober enough to remember.
With all this excitement to try and draw some kind of life experience from, I don't really know where to start. It's been a haphazard whirlwind of rushing trains, buses and flights. Countless bags packed and unpacked, outfits changed and taxis home; always on the way to somewhere else. I've not really had time to take stock of it all- and now I'm about to hurtle myself into a whole host of work- of Yorker, degree and part time varieties.
So have I learnt anything? I'm not sure. I definitely feel more grow-ed up, though I'm a far cry from a proper adult just yet. I now know not to get onto a boat with creepy men, not to snigger at people sincerely singing into the middle distance, not to take pyjamas to a rave. I can more or less bake bread, I've memorised the rules of
Fuck the Dealer,
and have endured the pain of a triple figure phone bill.
I'd been joking that my mini gap-yah was a soul searching mission, that I was going off to find myself in a bookshop, south of France. I wasn't genuinely expecting an epiphany while sunbathing in a hammock, but I think I secretly was hoping to find something out about myself. I blame reading Eat, Pray, Love. Truth is, I'm not sure I did. No- I'm not struggling with an existential crisis, I just don't think these three months have been a life-changing event for me. Not overtly, anyway.
That's not to say I haven't really, thoroughly enjoyed myself. I'd do the whole "memories that'll last a lifetime" spiel, but it's a bit cheesy and tired so I'll just take it for granted that you'll all agree I've had a great time. Saves on me using up a load of clichés and gushing about how fabulous my life has been. You'd only get jealous.
Looking back, there is one change I'd make. I was certain at the beginning of summer that I'd do just fine on my own; and while Regina, Alex, Jerry & Kevin will always house a lovely little alcove in my heart; I don't think I'd do it alone again. For one thing, there's no one to take picture of me when I'm gallivanting around, but more importantly; it would have been cool to have always had someone with me, experiencing the same things at the same time- and who isn't going to get sick of me constantly retelling anecdotes.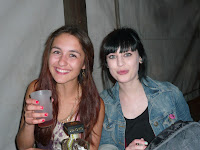 I've especially loved having Anna with me in my last week in France- someone who's cool and funny and interesting- there to take the piss out of my accent and to have "you had to be there" moments with. I'll forever refer to distant places as "Ain't no man collecting your bins", and tell people that they've got the wrong end of the leek.
One of the best things about my summer has been all the reunions I've been having. Stressed Mecca Bingo experiences with the BFF, fancy meals in London, nights out with the boys and walks round Sainsbury's with my mum. Those are the little moments that have really stitched all the antics of my summer up together- and I don't care how disgustingly cheesy that sounds. I love coming home just as much as I love getting my one way ticket out again.
Though I've come out a little battered, I've come out in one piece. In related news, my mum is now giving away all the kittens she had while I was off making a fuss somewhere to any good home. Back to normality; to work and studying and facing up to graduation (gulp). It's time for the tan to fade(!)