My sister isn't one for an early start. It runs in the family, for sure, but she's especially hard to drag out of bed. And on a weekend? Good luck seeing her before lunch time.
So when I set my alarm for 7am on Saturday, I wasn't expecting her to be be impressed, or even responsive. But the early bird gets the worm, or in this case, the cheap theatre tickets, and I was determined.
Various theatres in London offer cheap tickets for their shows for us cash-stricken 16-25s. The catch is you have to buy them in person from the theatre's box office, and it's first-come-first-served. In practice, this means there's usually a queue forming up to an hour before the doors swing open at 10am, which means no lie in for me or my sister.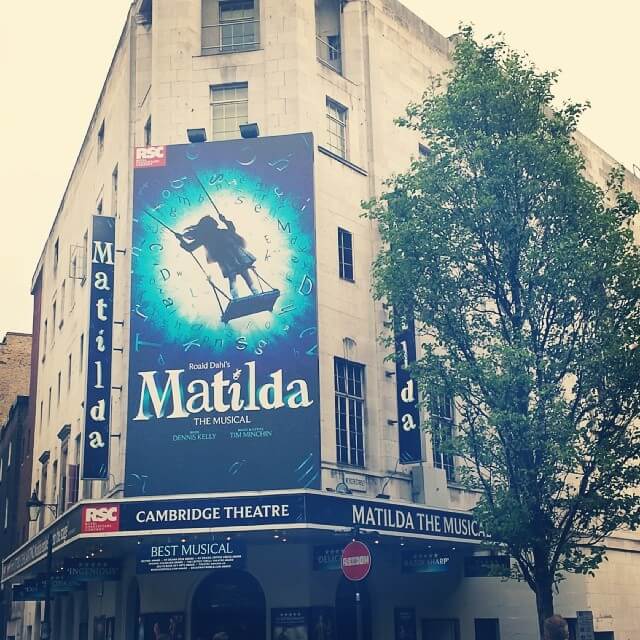 Come 9am, Baby Kelly and I were running through Covent Garden, the Cambridge Theatre sparkling away in the distance. We wanted £5 tickets to see Matilda the Musical, but so did another twenty-odd twenty-somethings who had clearly got up earlier than us. Thankfully, we were in luck. The Cambridge Theatre reserves 16 tickets per show per day for young people, and we secured two matinee tickets without any problem.
I really, really recommend Matilda the Musical. It's not as dark as the film or book- her parents are comically stupid rather than wilfully neglectful and the Trunchbull is a little bit panto villain rather than a hard nosed, disciplining demon. Understandable, really, as 80% of the audience were under ten years old. A kid's musical is no place for in depth exploration of the effects on a neglected child's imagination, amirite?
The show is amazing. It looks gorgeous and has brilliant wit throughout- Tim Minchin hits the sweet spot with lyrics that are the right mix of wink wink in-jokes for the adults and cute and cheeky lyrics for the kids- stand out lyrics including the gem "Ever since the day doc chopped the umbilical cord, It's been clear there's no peer for a miracle like me!".
The choreography is smooth, fast, snappy and exciting. My personal highlight is the School Song, where letters of the alphabet appear shoved through school gates, with dancing pupils swinging from and jumping onto them, tap dancing and just generally having more physical coordination than I can ever dream of. Fast-paced, cheeky and sweet, if you've got to entertain some young'uns, it's perfect, or if you're just feeling pangs of nostalgia for the "ummway, umway I WOULD LIKE TO REACH OUT MY HAND" song, or for watching children shove giant chocolate cake in their face, then it's a good day out for you too.
Anyone between 16 and 25 can get tickets- so if you have friends visiting or are going to be in the capital in the morning, it's well worth getting out of bed for. With tickets for a measly £5 each, you really can't argue with the early start. Details here.