I've been dreaming about a holiday to the Amalfi coast for years. It all started with some typical Facebook-envy; girls I knew from way back when were uploading photo after photo of dreamy Italian coastline, and I was all a flutter with trying to plan a trip. I collated Pinterest boards, bought calendars with AMALFI written all over it, and set about drawing up a perfect itinerary.
Obviously, as so many travel plans do, things got waylaid and it wasn't until a few years later, when I received some mega compensation from EasyJet (my story here), that I actually got around to booking this trip. It was a long time coming, and had a lot of built up expectation to meet.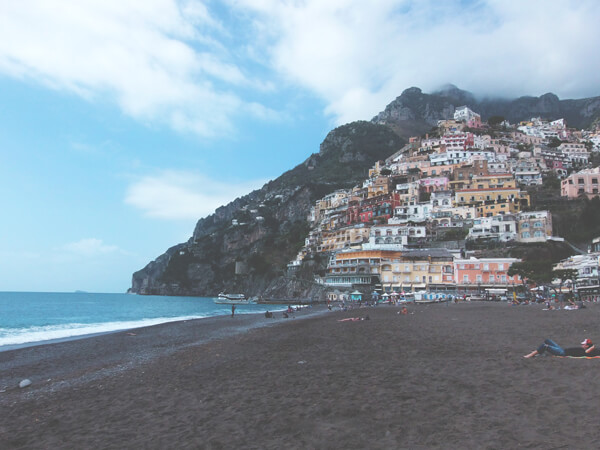 And guess what? Positano beat those expectations. For years I had been idly wondering how the breeze would feel on those precipitous coastal roads, how the colours of little houses built up a rockface would pop against the blue sky, and of course, of how much pasta I would eat. Positano fulfilled all of those little daydreams- most importantly the one about pasta.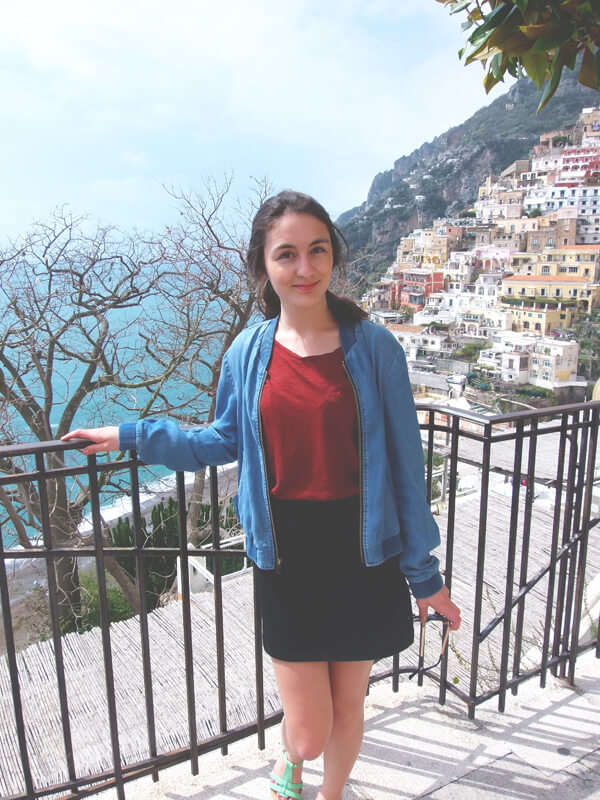 We were staying in nearby Sorrento, so woke up early to grab the coach. The coach is an entire experience in itself, so instead of feeling sleepy or bored from the hour long winding journey, we were buzzed and giddy like two kids who knew exactly how much gelato was waiting for them on the other side.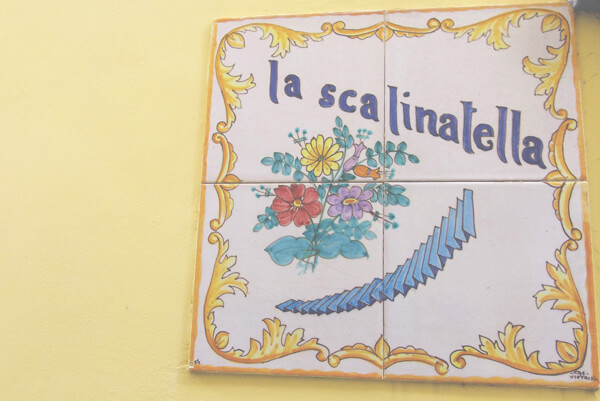 Positano is not built for the weak kneed. Everything is up or down a hill, with long winding roads to connect you, or monstrous flights of stairs. We spent all of our exploring time puffing and panting, stopping to rest our weary legs or pick up a congratulations cocktail after a particularly steep flight. Round every corner is a little gem, pastel painted houses, coffe bars, sweet pottery stores or private gardens you can just about peer into.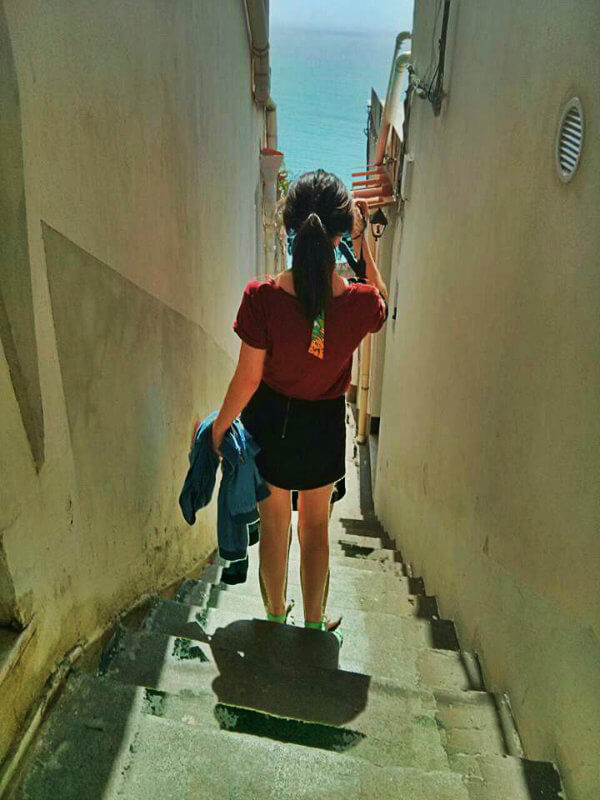 After several hours of lounging around on the beach and working up an appetite by scaling every flight of stairs we came across, Jonathan consulted TripAdvisor and we wound our way to probably the best restaurant in Positano: Saraceno d'Oro. We loaded up on linguini con vongole, and homemade pasta with fresh-off-the-boat seafood.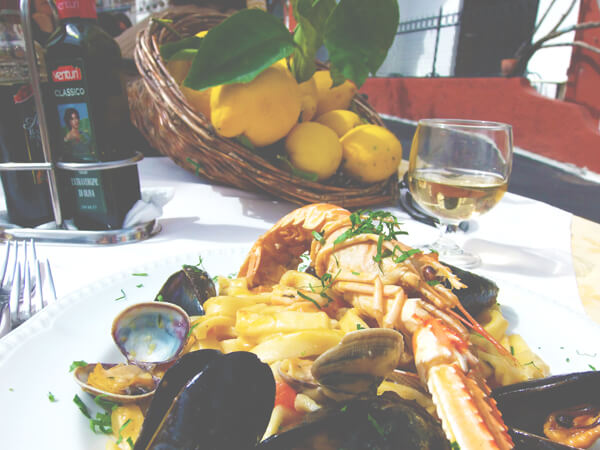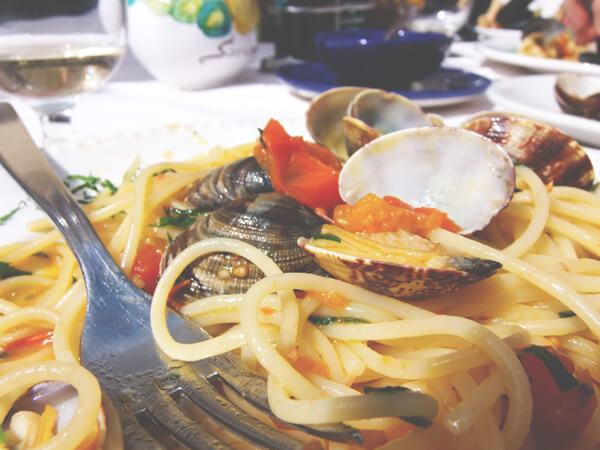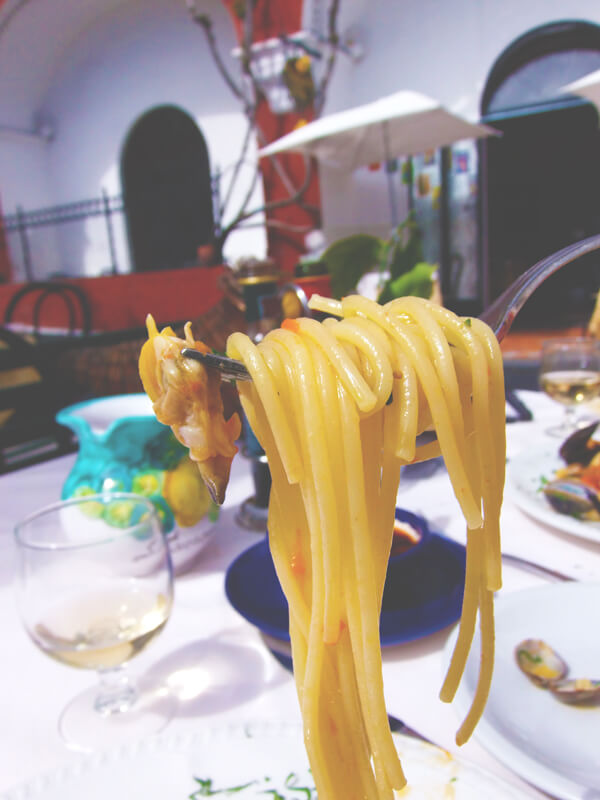 The service was fabulous, and we sat in a glorious little bit of sunshine. I honestly think that this was one of the best meals of my life- maybe because the carafe of wine was so delicious, the waiter was singing loudly to Italian music, because we'd spent so long hunting down the perfect restaurant, or just because the food was so damn good. It might even have something to do with the shot of limoncello we rounded up the meal with. Who cares- if I could spend every lunchtime here, I would.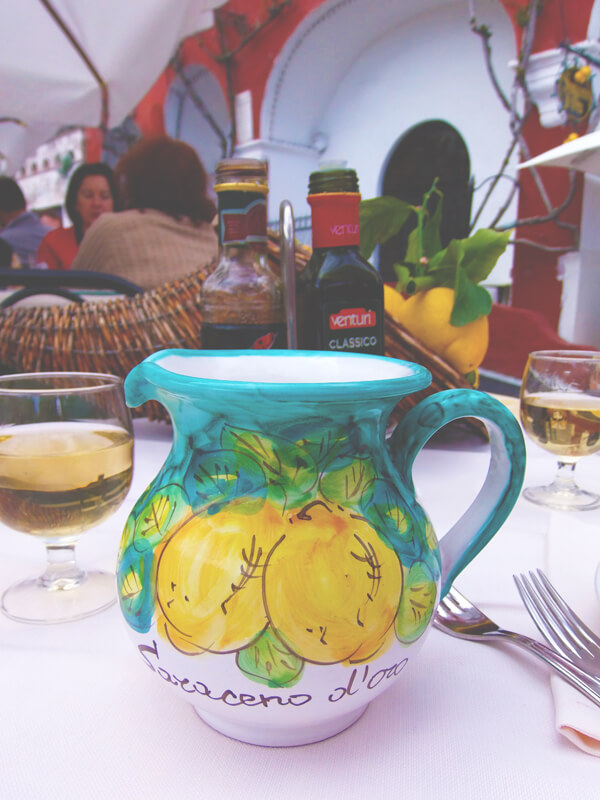 In a happy, light mood, we tottered off down the hill to lie on the beach and treat ourselves to some more gelato and vino, still professing how great Italian food was. Seriously guys, I don't know if you knew already, but the Italians, they got this food thing down.
As we were there in early April, people-watching was especially rewarding as Positano prepared for tourist high season. Crates of lemons were ferried between stores, flowers ready to bloom being planted along roadsides, signs and hotel walls being painted anew.

Positano in April was just stirring up to life, with a handful of places closed (most notably none of the pools were open for business), but the quiet and the charm of watching the town get ready, as though for a big party, makes visiting slightly pre-season all the more worthwhile.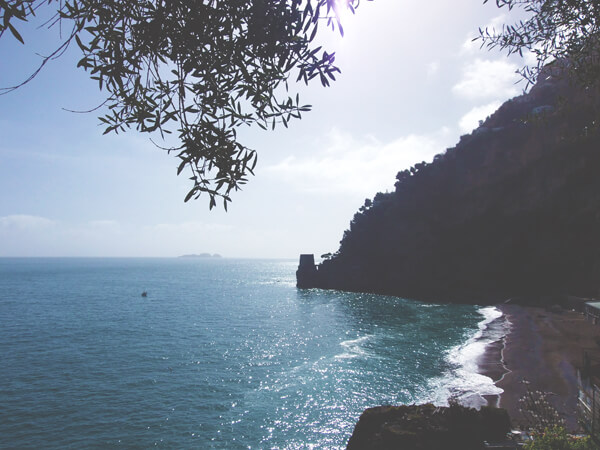 Once the sun had started to set, we packed up our books and made the ascent to the bus stop. Tip for you- it's almost completely unmarked, so take note of where you hop off the bus when you arrive.
I fell in love with Positano, and I'll definitely be back for round two. Though it's small enough to feel satisfied you've 'done' it in a single day, it's got that Italian habit of leaving you wanting more.