You don't go to Italy for a salad. I certainly can vouch for that- this is a country where diets come to die.
Rich, deep meat dishes; cheesey, meltingly decadent pastas; crisp, bite-me pizzas. Italy is the land of sexy food and exciting dining, and I am here to take in the throes of Florence's food, a willing servant.
THAT buttered chicken.
Down a side street- as so often the best restaurants are- you will find a bustling trattoria filled with wise Italians and lipsmacking tourists. As you queue, waiting for your seating session, waiters will shimmy past you with freshly slit Tuscan hams and cheeses, American tourists will call out asking to book a table for the same time next year, and your anxiety about being tantalising late for the last portion of the infamous butter chicken will reach dizzying heights.
Then, breathe, you are seated on a shared table with two bickering elderly Italian men, who spend the entire unaware of the delighted glances you keep shooting them. Order the butter chicken.
Enjoy the table entertainment of other diners arguing with each other over the final bites of shared food, sip in the Tuscan carafe, wave to the chefs through the open partition to the kitchen.
When it arrives, sizzling in the pan, doused liberally in butter, cut a portion off- crisp, crunch of the skin- and take a moment to be grateful for all the life decisions you have ever made leading you to this moment. Bite, make eye contact with your companion, smile. Devour the entire thing in about 6 seconds.
Gusto, gusto!
There's no real knack for finding the best pizza in an Italian town. Follow your nose down various ambling alleys and sidestreets until you find a place with a queue.
We waited patiently outside Gusta Pizza, alongside half of Firenze. A moment away from Santo Spirito, the Shoreditch of Florence, we were in a queue that acted as a cross section of Florence on a warm, April day: Lonely Planet clutching Americans, hungover students, beautiful Italian girls calling to their friends on the passing Vespas, a gaggle of schooltrippers; and us- a couple hunting for romantic moments via pizza.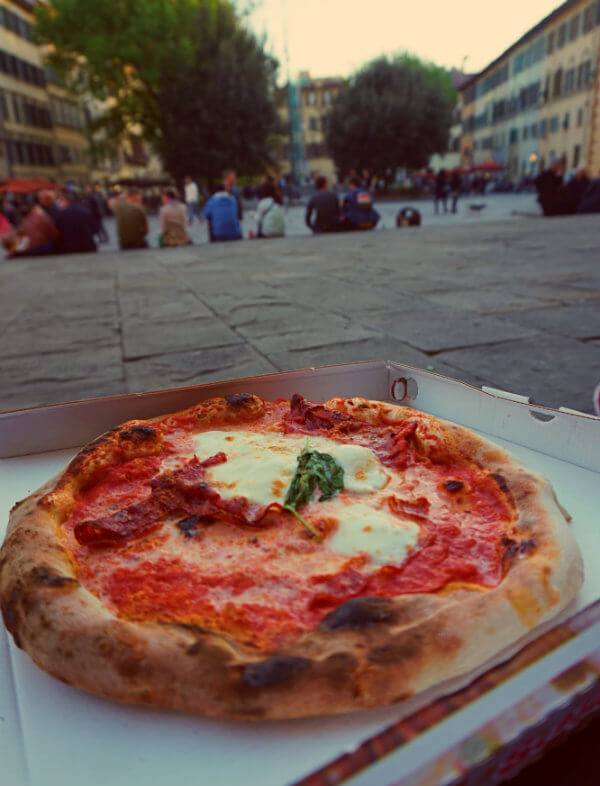 Once we snaked round the door ordered in terrible Italian (they responded in English), we were handed a slip of paper. Jonathan slipped off to the shop round the corner for a beer to go. I stood and watched pizzas kneaded, flung into ovens and scooped out for a few minutes clutching my slip until- hurrah!- my number was up.
Gleefully prepared with pizza box and drink in hand, we squatted down on the steps of the Basilica di Santo Spirito and fished out a pizza slice each. Mine, a Calabrese (spicy salami, mozzarella, tomatoes), Jonathan's a Gustsapizza (rocket, parmesan, mozzerlla), both topped with a beautiful tomato base and finished with perfectly crisp crusts. Hoovering up any melted cheese and joyously feeding each other mouthfuls, we surveyed the Santo Spirito square livening up for the evening and checked off 'Romantic Pizza' off our to do list.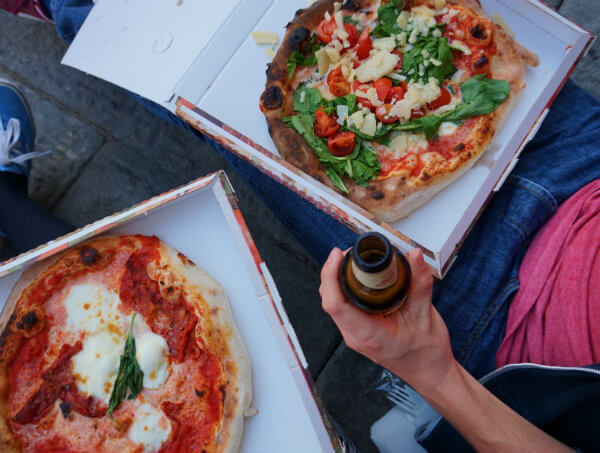 A Florence foodie's worst kept secret.
Mercato Centrale is an edible treasure wonderland. While the system isn't particularly clear- not least to two hangry tourists- I can quickly forgive any misgivings. Split over two floors, the Mercato brings together producers and kitchens into one beautiful hall. Light refracts into colourful soft sheets covering the dining tables, with ample people-watching spots going.
We toured once, then doubled back to our selections. Aranci was excellently executed (and novel to Jonathan; 'deep fried pasta- this is a fucking genius idea'), wine was sharp and clean, sandwiches so wonderful they felt decadent, cannolo sweet and messy.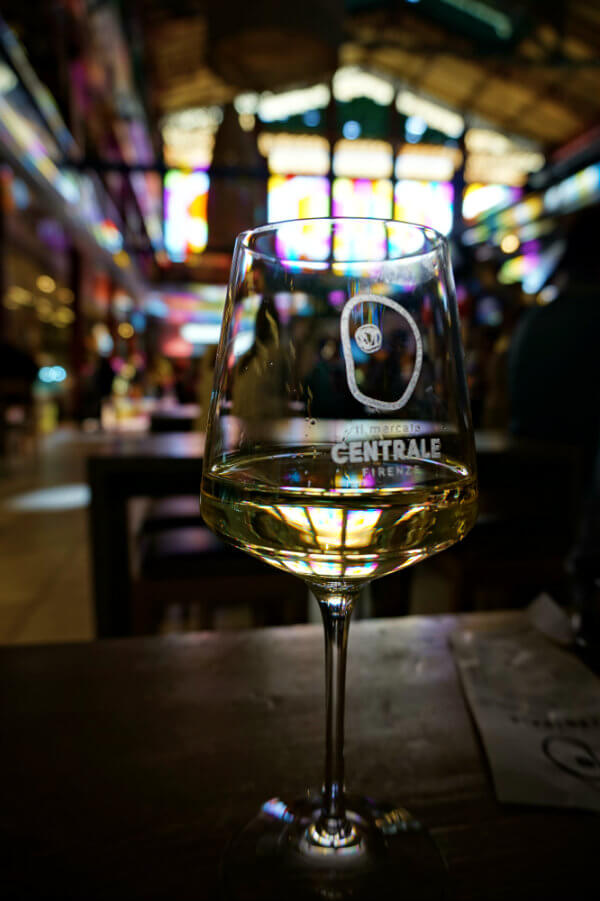 Pasta la vista…
In a stroke of genius, Italy invented the four course meal (don't fact check that).
As someone with intense food envy problems, primi and secondi are an answer to all my restaurant prayers: antipasti to warm things up, primi to satisfy cravings, secondi to seem a touch more elegant and dolci to get the sweet spot.
The best course- I think everyone agrees- is primi a.k.a. your chance to also eat pasta tonight. God bless Italians for finding a way to elbow in a good old bowl of the good stuff into even the finest of dining experiences.
I can recommend the Osteria Antica Mescita San Niccolò for their excellent value, bustling vibe and sweet waitresses, but truly, this is a glory Florence-wide.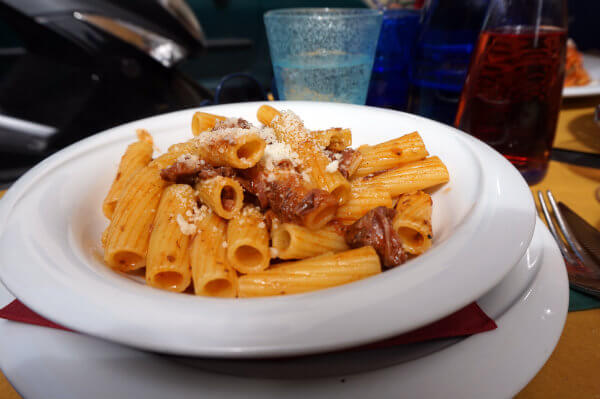 Fresh, al dente, surrounded by warming and deep meaty sauces- and, naturally, topped in a mountain of parmesan cheese. Now, if I can come up with a way of incorporating this into a daily routine…
Diets a long forgotten misery, settle into a scoop of gelato and wander off into the playful Florence streets, looking for your next meal.