L'ETO Caffe has one of those windows that you don't just walk past. You double take, retrace your steps, and gawp in the window for a moment. Then, if you're anything like me (i.e. total lack of self restraint) you head straight in to order a cake to go.
So when news came by that they don't just serve perfectly formed cakes, but also a full dinner menu, I thought that I owed L'ETO Caffe the courtesy of at least taking them for a date before I leered at their baked goods.
I started, as every good meal should, with a cocktail.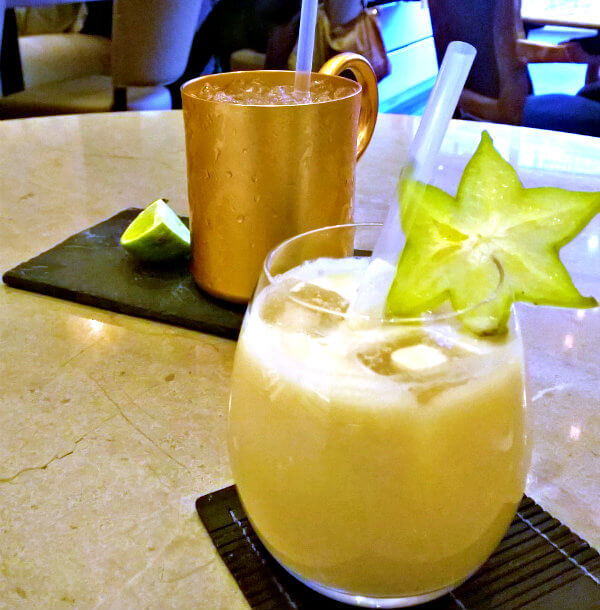 My passionfruit copacabana was creamy, just a little bit sweet, and lasted me the whole menu. It was like a lighter Baileys, with just a touch of fruitiness. This might not be the greatest description in the world, so you'll have to take my word for it, or go down and try it out yourself

For starters, we were both feeling fishy.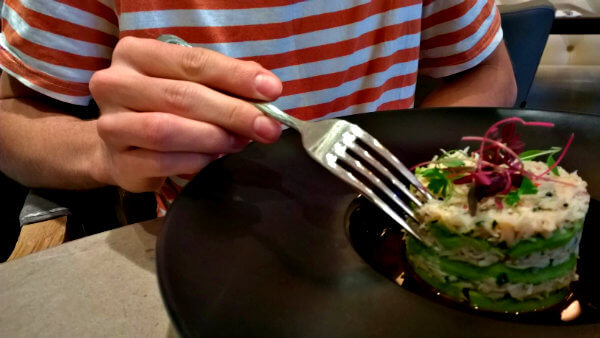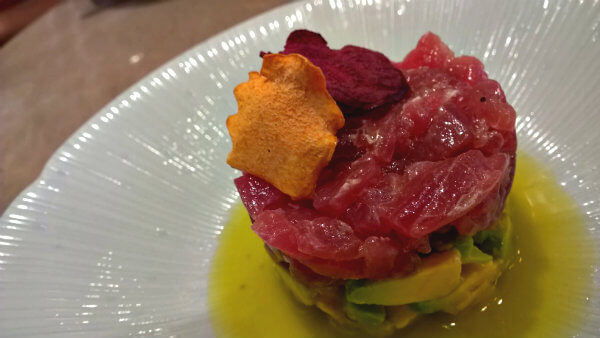 That's Jonathan digging into his crab and avocado salad before I got a chance to photograph it in it's pristine glory, and on the bottom is my tuna tartare- which, puzzingly, was spelt TAR-TAR on their menu. Have I lost my mind, or is this weird?
Spellings aside, it was lush. Generous portions of meltingly good tuna and a really sharp sauce to contrast the avocado. Jonathan's salad was nice- though the soy and lime dressing didn't blow my mind- I like my dressings potent, not gentle. I'll stick to my tune tar tar/tatare.
Mains were a game affair.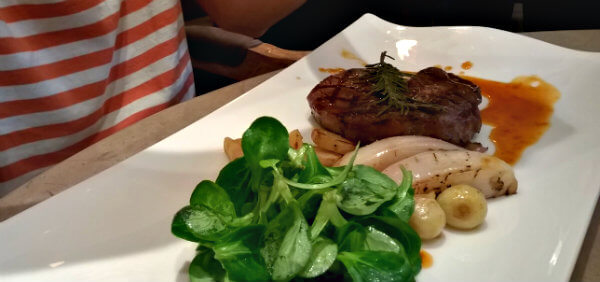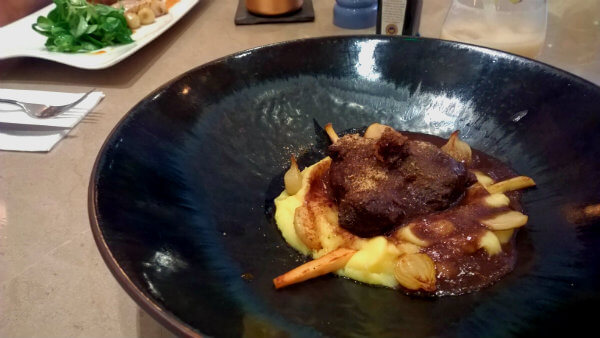 Jonathan was boring and had a steak. With so many cool other things on the menu, amazing pastas and all sorts of slow cooking going on, I was hoping he'd go for something more adventurous I could pinch a few forkfulls of, but steak it was. He enjoyed it, in any case.
I had veal's cheek, slow braised (how else?), on lemon potato creme, with a five spice jus. The veal was lush, falling apart at the meerest glimpse of my fork. The potato- essentially posh mash- was amazing. I would never have expected to love lemon potato mash- it sounds like a Blumenthal pudding- but I did. Top marks, L'ETO.
The main event in L'ETO is the desserts. I'll let the cakes do the rest of the talking.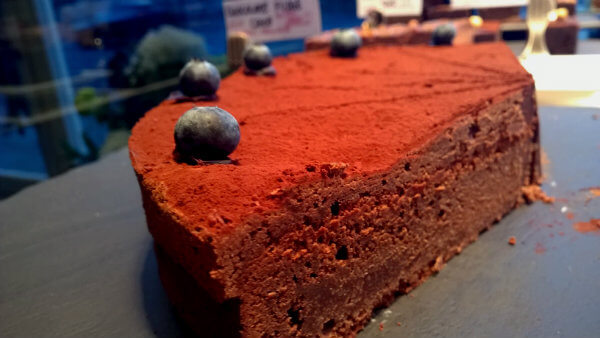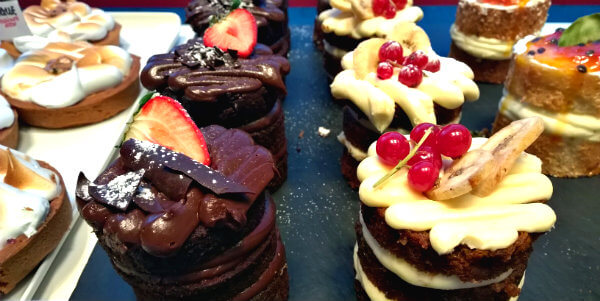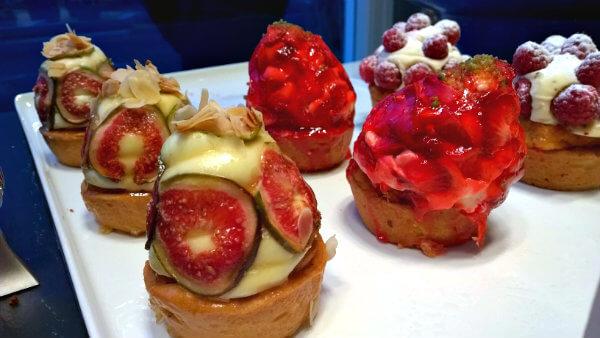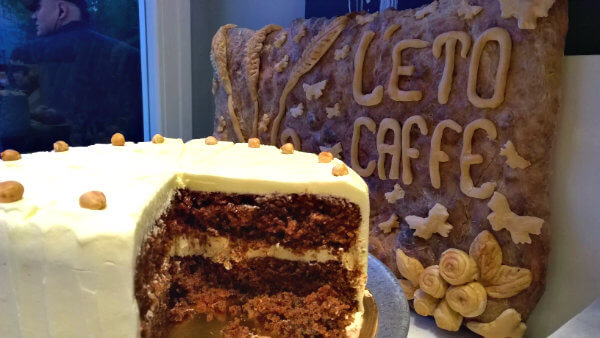 After some serious discussion, Jonathan and I made the most important decision of the day. I went for L'ETO's famous honey cake, and Jonathan had the chocolate cake.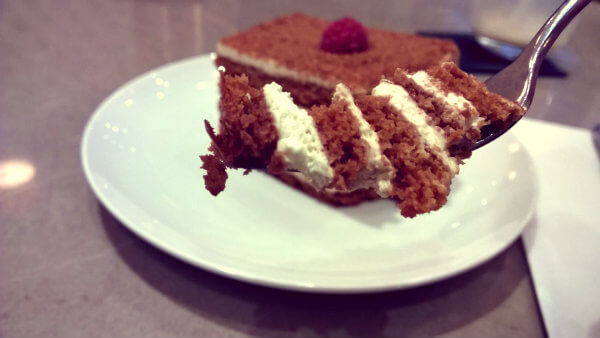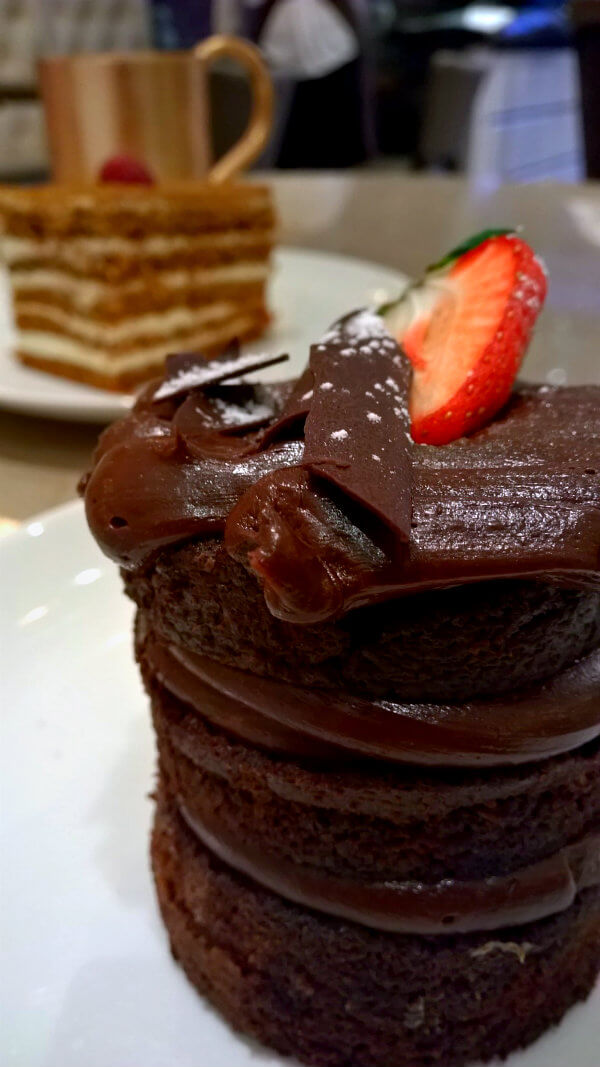 Aww shit.
They were, obviously, perfect. The honey cake was light, crisp, fluffy and insanely moreish. The chocolate cake was decadent, the way all chocolate cakes try to be, and the little squidge of sharp raspberry jam in the centre was like finding a little treasure chest of fruitiness. We fought over who got to eat the last spoonfuls of each, and nursed our full stomachs off into the night…
L'ETO Caffe, Brompton Road and across London.