I was attacked by an orc once. I know that sounds like I'm trying to tell a bad joke, but I'm serious. It's one of my favourite anecdotes to prove how reliably ridiculous my life can be.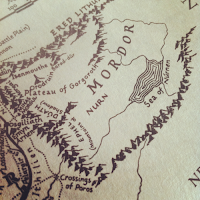 My friend Cat took me a few years ago to London to see Lord of the Rings: The Musical, and the audience-interaction levels were a little too high for my consciousness to manage. Having attempted to nip to the loo in the middle of a battle scene, the (really bloody terrifying) orc-actors had spread out into the audience in order to intimate us all. Wonderful theatre, but not too great for my psychological welfare.
In the strangest stand-off I've ever been in, me and Cat tried to outwit the orc in front of the entire upper circle. He took a single step towards us, and we quickly shit ourselves and scurried back to our seats with tails between our legs. Obviously, not feeling embarrassed enough, I decided to pass out. It's a trick I do when I don't feel like there's enough dramatic tension in a moment.
Needless to say, this traumatic LOTR experience was always enough for me. However, upon finding out I'd never seen the films, or read the book, my boyfriend decided I needed "nerding up", good and proper. So the next few weeks of my life became almost completely about Lord of the Rings. Romance isn't dead.
We rented each film, extended edition, and watched the lot. Three bags of peanut M&M's, half a cheesecake, seventy different pause-to-explain-what-just-happened-s, about nine brews and two library rental fines later- it's over. I've seen all of the Lord of the Rings there is to see. And it's pretty cool. I know I'm a bit late to the party to start reviewing them, so I'll skip that and get straight to the important shit.
1. How much of a dick is Frodo?! Like, I know you're having a tough time carrying that cursed demon ring, but can you cut it out with the elongated pauses and middle-distance stares? And getting onto that boat at the end was not cool. Honestly. You destroy one evil warlord-eye, and all of a sudden it's okay to totally bail on your mates and get on the boat full of cool grown ups. You're being a sulky, marde-arse weirdo.
2. Legolas is the coolest guy ever. Just casually killing orcs and sliding down stairs on a shield and riding an elephant while simultaneously killing it and just fuck yeah Legolas. He's also Orlando Bloom. He wins at everything.
3. Kings are douches. If I was a king, I would not ignore Gandalf. I also wouldn't try to drown people I didn't like in a landslide of skulls. Nor would I burn my own son alive. Nor would I be a marde arse about my daughter not wanting to live forever on my weird-ass eternity boat.
4. I want everyone to talk like they talk in LOTR. Next time I get on the bus, I'm going to bark at the driver- "Bus-driver, show us the meaning of haste!".
5. I kinda love Gollum. He's misunderstood. Why does everyone beat him up?! The only time I dislike Samwise is when he's being a bully to Gollum. I understand that yes, he does try to murder quite a few people, and that creepy phlegmy voice he does is kinda disconcerting, but that's because he's cursed. He clearly has a serious mental health issue, and Gandalf is right to stick up for him. He's also undeniably adorable at points. I think I'd quite like a Gollum. You know, as a pet.
After watching all twelve glorious hours, I'm kinda really into it. I've been watching YouTube clips, and I'm taking out the documentary on the making of Gollum as soon as I get chance. I think I've sufficiently been "nerded up", but Jonathan doesn't particularly agree. We've got to watch Star Wars next. Fabulous.