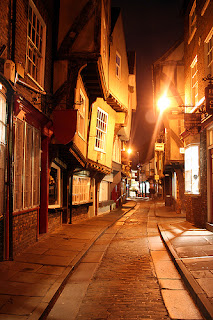 So, welcome to your new city. We know trying to discover all the best offerings of a new place can be a bit of a pain, so the Lifestyle team have been real generous and are giving you a helping hand in your path to unearthing York's most interesting spots.
York is FULL of gates. No, not kissing ones. It's a fancy way of saying street, basically, and it can be quite difficult knowing your Coppergates from your Colliergates. We've handpicked the most interesting ones you need to know about!
Jubbergate.
It may sound like something from a Lewis Carroll poem, but it's not in Wonderland, it's just off Parliament Square. Home to York's main market, pick up fresh flowers, fix your phone, and browse local artists' work.
Swinegate. 
Swinegate has an unusual history; originally a lane where pigs were kept, it later developed a slightly seedier nature when it became home to brothels and prostitutes- then known as "Swingate", with neighbouring Grape Lane being known as "Grope" lane (charming). Now home to more respectable joints, you'll find student musts Vudu Lounge and 1331 here.
Hungate. 
Here you'll find York's largest and most ambitious excavation site. DIG is literally unearthing York's astonishingly long history, and although the guided tours have stopped there's still plenty to be marvelled at over at the exhibition that'll be hanging around all year.
Whip-ma-whop-ma-gate.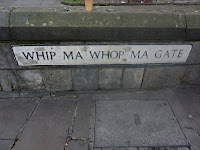 Short street, long name. The plaque that lives on this street tells us it means ""What a street!" and is probably the only street name to be considered this quirky & adorable anywhere. The "Whip" element comes from the days of public humiliation as punishment- stocks were erected here so petty criminals could receive a good old fashioned flogging.
Shambles. 
No guide to York's best streets would be complete without heralding the famous Shambles. This cobbled lane has pretty much the coolest namedropping potential out of all York's streets, having been mentioned in the Doomsday Book in 1086. Usually full of tourists- because it's plain gorgeous, make sure you check out the incredible chocolatiers, and head down for a romantic stroll at night.
___________________________________________________________
Originally published in Y Magazine, Issue 1 (view here), 29th Sept '12