I'm not entirely sure, but I think the way we got the best seat in the house might have been because I pestered the reservations team on the day of Eid. Panicking,as I'm wont to do when it comes to reservations, I'd sent a flurry of emails trying to get a table for the 6th of July- Eid ul Fitr 2016- before a quick consultation with the NOMAD Facebook page informed me they were going to be closed that day to celebrate with their families.
Ah. I emailed (a fourth time, now) to apologise for harassing them, and Eid Mubarak while I'm at it.
When we were led to our table on the 7th, semi-private with a tiny terrace overlooking 'Spice Square', glowing lanterns overhead- I couldn't help but wonder if this was chance, or if they took pity on my gushing, rushing emails and let me have the loveliest spot as a quiet nod to my desperation to have a perfect evening.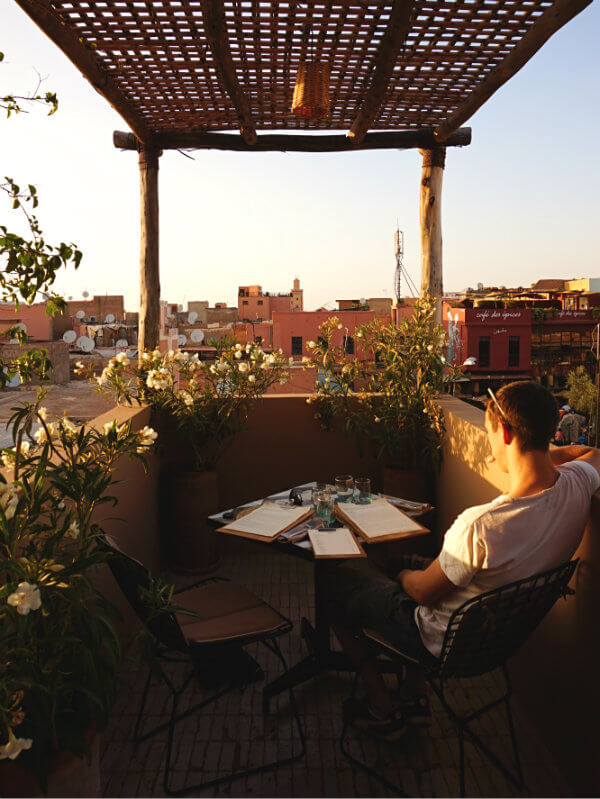 Or maybe it's just that every table feels especially laid out for you here. That's quite possible.
The sun, melting into the sky throughout the evening, threw a golden light across our table and tempted the mojitos from the menu and into my hand.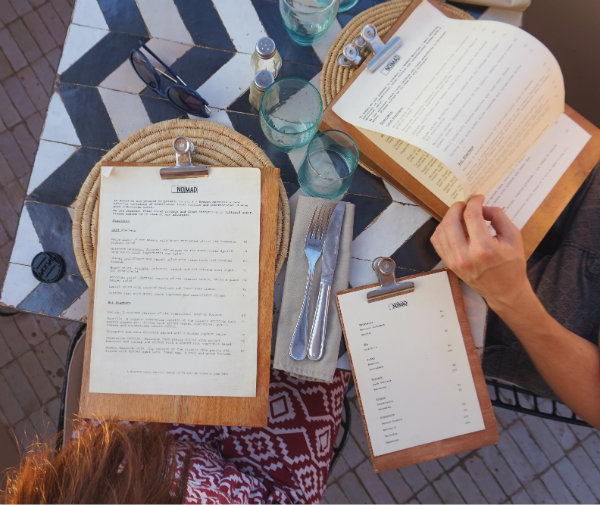 We ordered the tagine, lamb burger, roasted fennel and greens.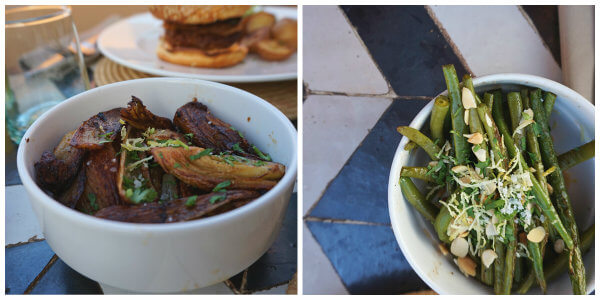 It was all excellent. The tagine is a modern- read, 'deconstructed'- take. I was a touch worried about ordering this- this kind of modernisation of any tried and tested tradition can feel a little dehydrated- a Masterchef wannabe trying to reinvent old favourites with foams and microveg and sous vides- but am pleased to report that this was nothing of the sort.
A refreshing twist on the hearty tagines of Marrakesh, the chicken is succulent and slowly cooked. The sauce is a little sweet, offset nicely by the tiny bowl of a spicy, velvety dipping sauce. I devoured it.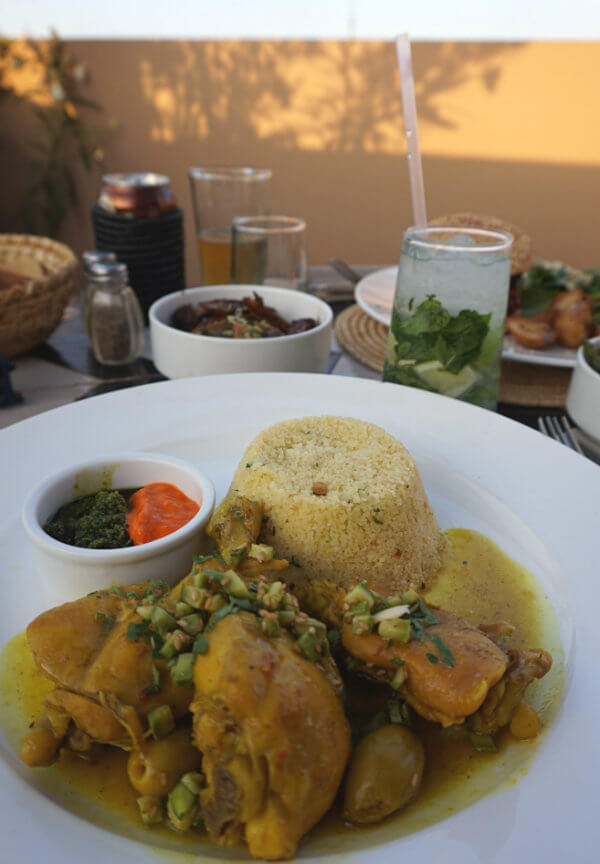 Nomad's burger received lipsmacking rounds of approval from Jonathan- who also doubles as your local friendly burger aficionado, so you know you can trust him on it. We'd seen many attempts at 'western' junk food- dreary pizzas and so on- but this, possibly Marrakesh's best burger, uses the best of Moroccan and American flavours blended.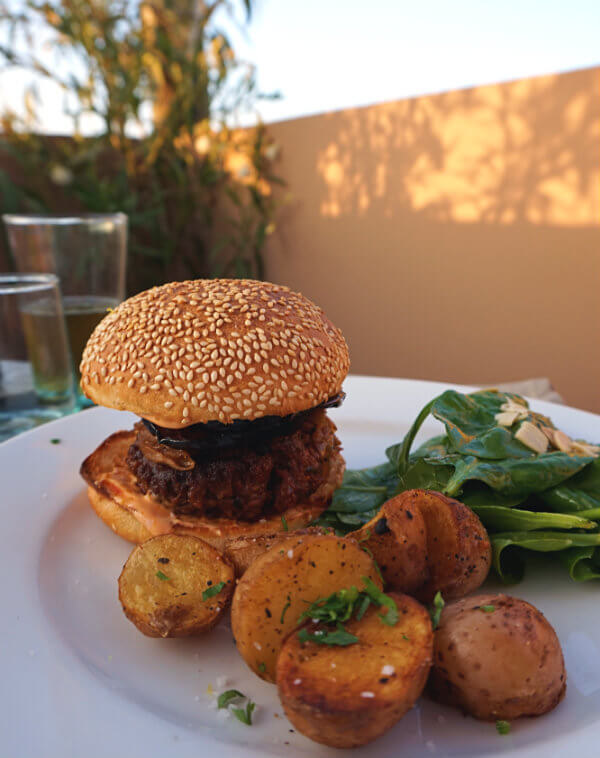 Sweets were verbena leaf and spiced chocolate sorbets, and saffron and ginger ice creams. These stood head and shoulders above ice cream we'd tried elsewhere- the flavours fresh and interesting- at once complementary to the warmth of our main's flavours and also a pleasant final note of sweet soothing cold to round of an evening of hot food.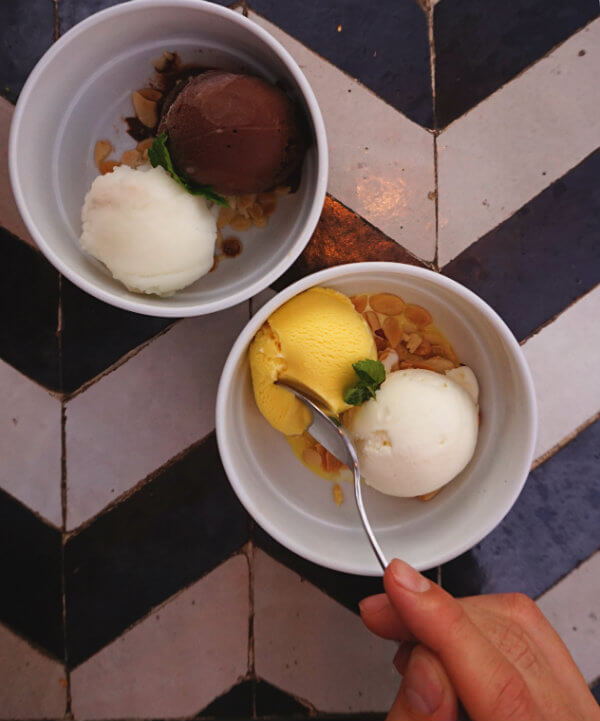 Food finished, we sank back into our seats and watched the sun ease itself away from the peak of the sky to behind the pink-orange buildings, gently lowering across the corrugated roofs and satellite dishes that pepper the horizon.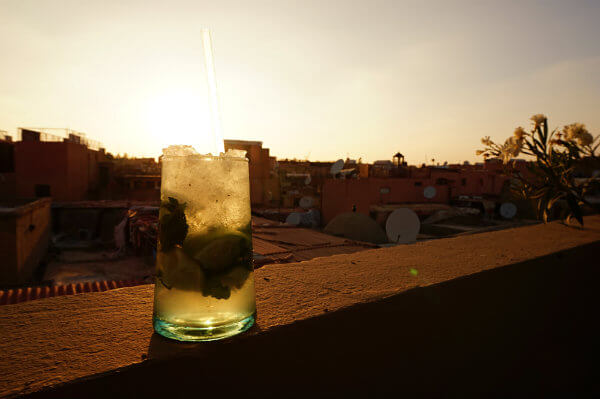 As the light turns from crisp blue to melting pale purple into darkness, candles and lanterns illuminate the restaurant. This restaurant is so pretty- it took every ounce of restraint not to try to Instagram it from every angle (disclaimer: this is nonsense, I absolutely did try. I had to stop when the food arrived so I could, y'know, eat.)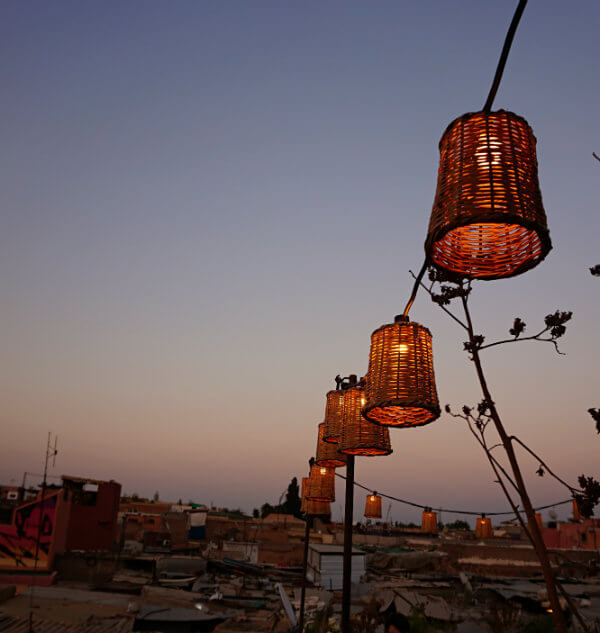 In short, this was an absolute belter of a meal. Romantic, not fussy, delicious and beautiful, which makes it a ten out of ten for me.
NOMAD, Place des Epices, Marrakesh.