The struggles you face in London are truly real. Sure, there's the ones everyone knows about (rent rises, Southern Rail, the chaos of the first snowflake landing, the 'liberal London elite', etc etc). But those pale in comparison, surely, to the guttural need to be constantly ~ I N – T H E – K N O W~.
I've tweeted about FOMO to an audience of eye rollers before, and it did seem a contender for Word of the Year before alternative facts got in the post-truth way (A shame of many facets, to be sure). Whilst in the midst of my tweetstorm (three likes and a scathing reply, shout out to my fans), Giles Coren posted this:
URGENT: Go NOW to 108 Garage on Golborne Road. Chris Denney is a once-in-a-lifetime chef. Book NOW before the critics make it impossible.

— Giles Coren (@gilescoren) January 12, 2017
And let me tell you, friends, that when Giles Coren tells you to get to a restaurant, you immediately stop what you're doing and book a table. Or at least I do, so I did.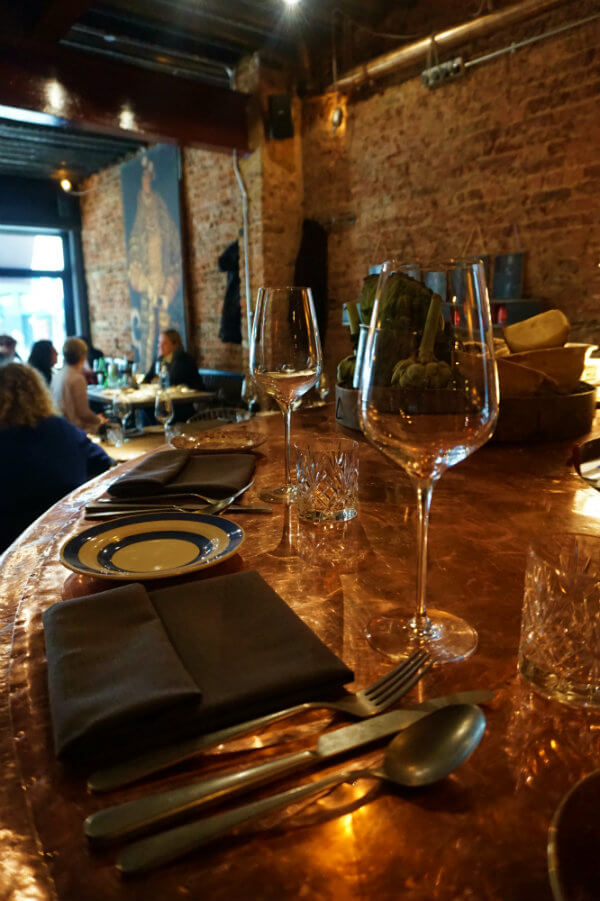 Round rolls the fateful Saturday, and after battling through the carnage that is Portobello Road Market, we emerged into the promised culinary haven to settle in for a few hours. Perched at the bar (another great Giles tip), we had a vantage point straight into the tiny kitchen and across the red-brick hues of the restaurant. Copper and industrial steelwork lined the walls. The beautiful staff joke with us and each other. Chef Chris Denney asks if we had allergies and hands us appetizers. I make eye contact with Jonathan- who is typically a fair but harsh judge of my restaurant choices- and he is buzzing.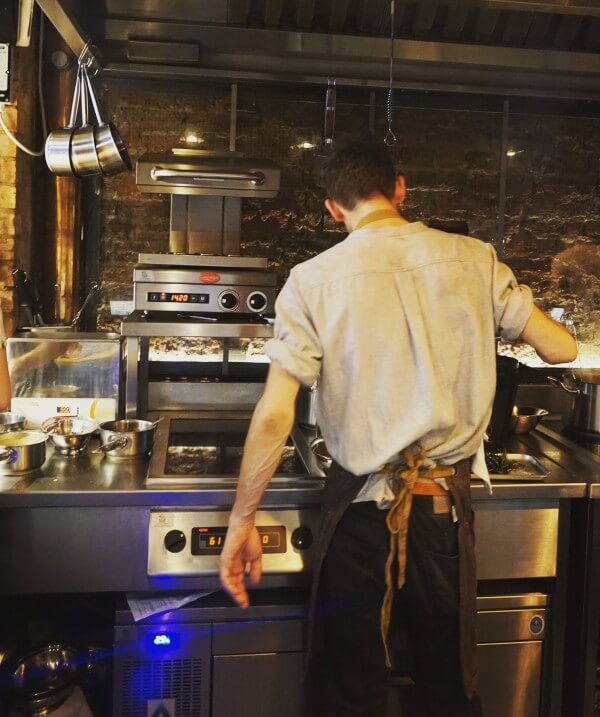 We order, as you should too, the five course menu. For food this good it is startling value at £35 a head. Between the two of us it meant we got the try every dish on the set menu, so go with someone you're willing to share the good stuff with.
The chicken parfait was so smooth you wouldn't be certain you had actually popped it into your mouth if it wasn't for the blow-away flavour. Cured mackerel is light, happy. The beetroot is sharp, happy. We sit wide eyed, happy.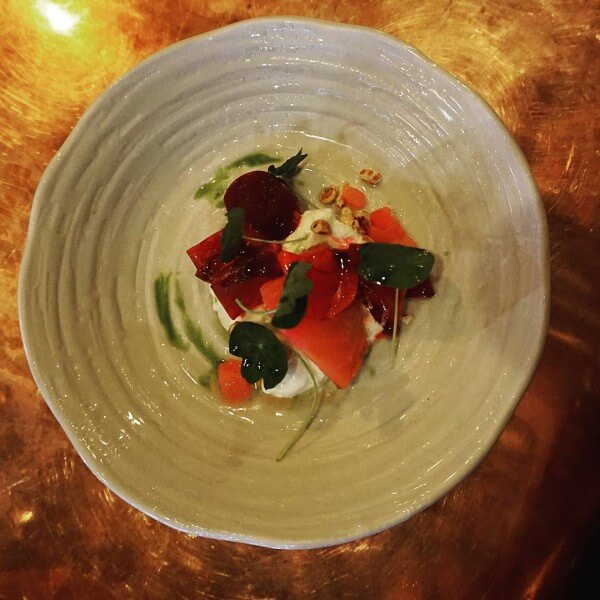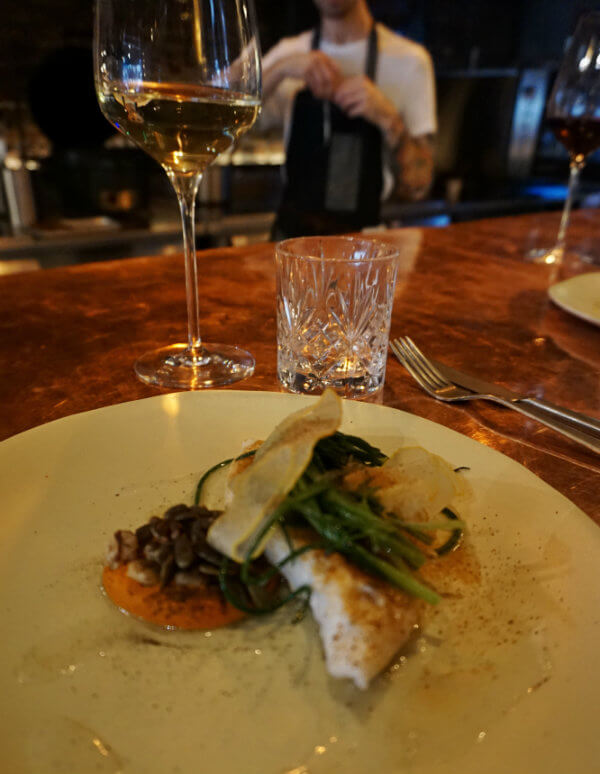 Our mains are John Dory and wagyu, respectively. The fish (pictured above, out of focus in excitement) is exquisite alongside an almost Portuguese-style sauce, the samphire and pumpkin seeds genius texture additions. It was a smart dish and a lovely dish. The wagyu comes donning a mustard seed relish, and melts just by looking at it. This dish was a particular flirt- Chris Denney was preparing other guest's wagyu tantilisingly in front of us, meaning that even as we ate we were driven to distraction by the next batch of beef…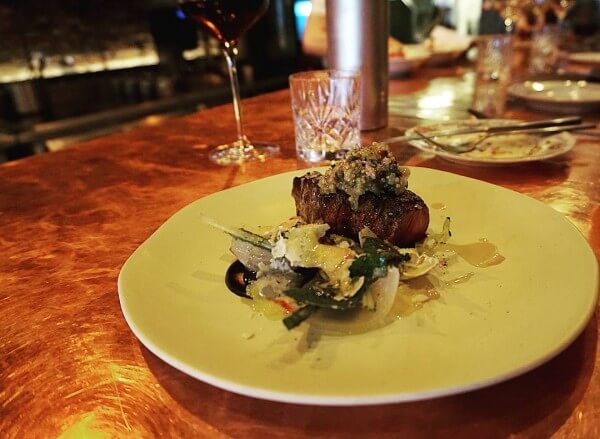 A palate cleanser, served over the bar by one of the chefs, of pink-lady apple sorbet.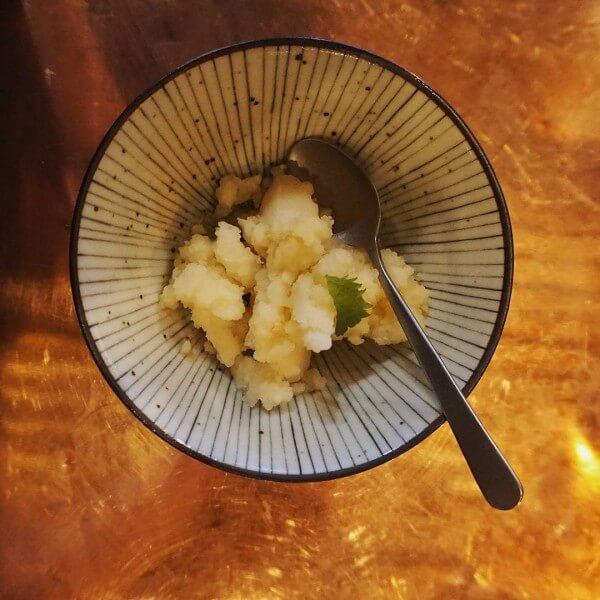 I cannot reliably report on the date and IPA cake as I did not get a look in. I can however report that the cheese was fantastic. Black bomber is a little cheesy punch in the tastebuds. It came crumbled onto fresh (and also crumbly) cracker breads and generous pickle. Every morsel was appreciated and licked up.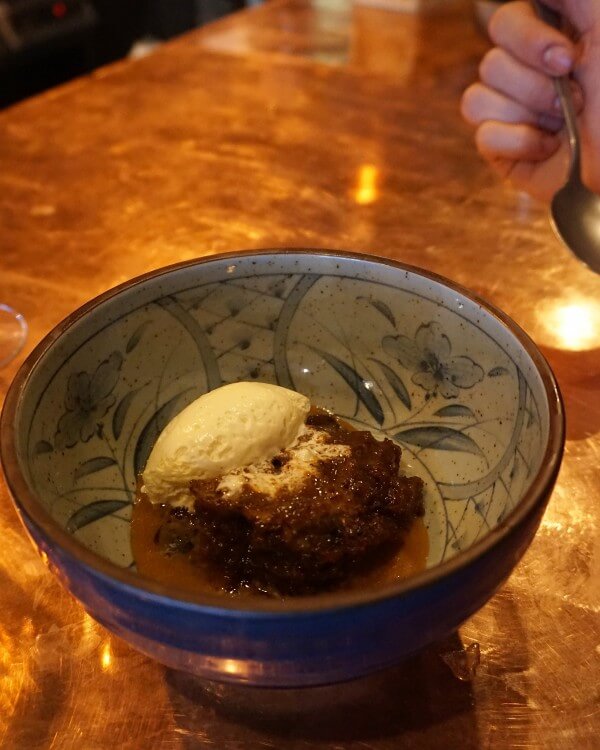 Not willing to let go of our experience just yet, we ordered cocktails to prolong the joy. I had a rosemary and tequila concotion, Jonathan had the house signature (£10 each). As we sipped and stared out into the restaurant, Jonathan decided that we would come back. Which, forgive me Giles Coren, is probably the best compliment you can give a restaurant.