Late to the trend party as ever, I've been pining after going to a supper club. I'm the sort of person who loves the social side of food- bonding over carving a roast or tasting a forkful of your friend's dish is the most important part of any meal- and supper clubs are that bit more personal than your typical eat-out experience. Unfortunately, I'm also the sort of person who will have something on my 'I must do that' list for months, so despite it being on my radar for a good long while, I'd never got round to going to one.
Until, that is, I was invited by the very lovely Tazz along to a Tabl event. Tabl is all about making dining experiences more fun, more personal, and more social. Their website, tabl.com, is a litany of cool one-night-only pop ups, home kitchen supper clubs, and innovative food + something special mash ups. To say I jumped at the chance is to massively overstate the grace I had in accepting her invite.
So that's how I found myself flying solo in the private dining room of Tramshed, Shoreditch, for a tattoo-inspired menu and discussion with The Inksiders and food-hero Gizzi Erskine.
Long tables lay in the centre of the dining room, with people milling around holding glasses of Brighton Gin. I knew nobody. Recognising Erin, IslandBell, from Twitter, I walked over and shyly interrupted her and her friend's chat to introduce myself. Erin and Charlie were so sweet, and immediately accepted me as part of their evening as we got chatting about the towns we had in common and our shared love of Gizzi Erskine's books.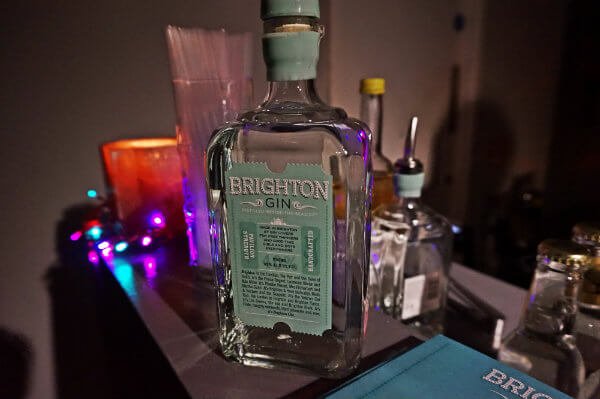 Welcome drinks swigged, it was time to take our seats. Seeing a gap in the crowd surrounding Gizzi, Erin took us to meet her, we were greeted with hugs like old friends and asked to join her at the table so we could all keep chatting. As I was shaking off my fangirl, a hand tapped my shoulder. Lydia, a girl I haven't seen for years, was right there in front of me. We freaked out, sat down together, and the meal began.
Simultaneously in reunion and making-friends mode, I chatted an laughed and swapped Twitters and took photos all night. Each dish was designed to be carved out for groups, a glowing convivial spirit of carving roast chicken and sharing out plates of salad, pouring drinks for people I hadn't met yet. If this sounds gushing, then that's as accurate as I could be. I loved it.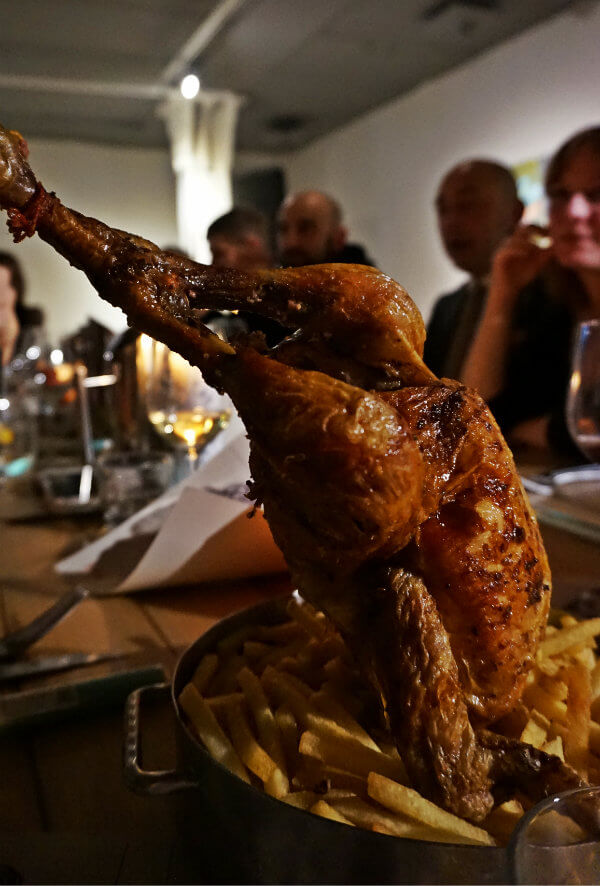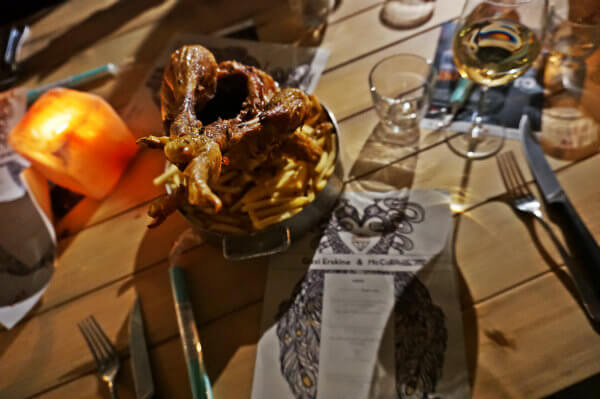 Between mains and dessert (pure salted caramel fondue with cakes for dipping- the most heart-eyes-emoji dish I've ever seen), there was a Q&A with Gizzi and Mo, a renowned tattoo artist. They chatted about the ink and food industries, fielding questions from the crowd as we swigged wine. Though I'm no tattoo afficianado, you could really get a feel for their passion and expertise.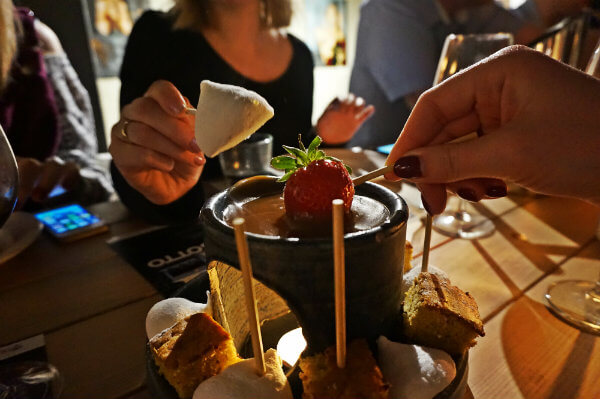 Dessert rounded up and with plans to meet all four of the girls I got chatting to again, I tottered off back home feeling incredibly connected to London. Without really trying, I'd found myself alone in an awesome restaurant with food by a chef I love, met new friends and found old ones, discovered a new way of entertaining that I'm dying to do again and left full and happy. This was more social, more dinner-round-mine than any restaurant I've ever been to. I'm already scouring Tabl for the next opportunity to arrive alone at a dinner party and leave with new friends and a stomach full of great food.
PS- if anyone wants to hit up a supper club, shout and I will 100% come with you!