I'd always written Italy off. It wasn't as exotic or fiesty or distant as somewhere like New Zealand, Rome looked cramped, and besides, pizzas are just tarted up cheese on toast. Italy wasn't for me.
Until, like the true eagle-eyed budgeter I am, I spotted hella cheap flights using Kayak's "Everywhere" tool. Return flights to Verona for two people for less than £150? I decided I'd put up with Verona for that price, and use it to get to more interesting places. I am nothing if not a reasonable person.
After trundling off the plane and squinting into the sunlight, I realised "putting up with Verona" is the very least anyone can do. It's incredible.
Verona was to be our base- and I wasn't expecting much from it other than a cheap place to sleep in between day trips to the more expensive locations Venice and Lake Garda. Sure, there was the whole Romeo and Juliet situation, but I was dead certain that'd be a bawdy museum full of bored school-trip groups, and maybe a few tourist traps selling tacky "Romeo 4 Juliet" tee shirts, but nowt actually interesting.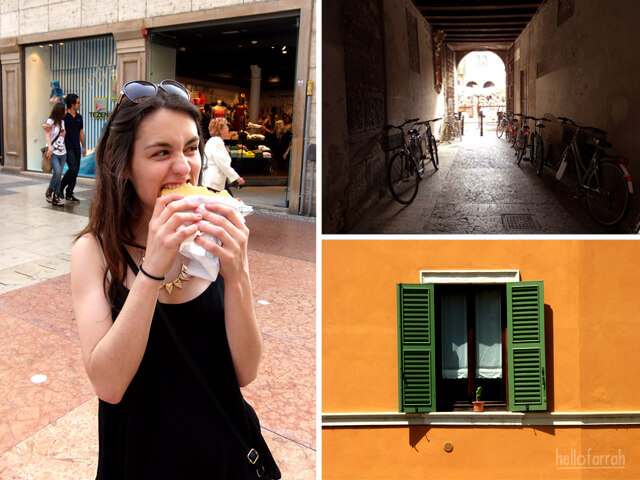 Well, more fool me. What a place!
Verona is a city of colourful alleys, marbled streets and Roman ruins, hidden gelatarias, gorgeous parks and bell towers both adding to and offering city-wide views of this breathtaking city.
Our B&B was a stone's throw from the city centre, which was full of amazing places to eat. I used to very much an Italian food cynic- anyone can knock together cheese and tomatoes, that doesn't make it a national cuisine- but I've firmly shut my mouth since firmly stuffing into my mouth several portions of fresh gnocchi, tagliatelli and my previous pet-hate, pizza. Oh, and gelato. Fuck loads of gelato. All hail Italian food.
Other than food (which is obviously my priority), Verona proved to be a labyrinth of gems. Every side street had something awe-inspiring tucked down it, whether it was the best damn sandwich you'd ever had, or the entrance to a sweet little garden, or, I dunno, a massive Roman ampitheatre. These streets constantly surprised and impressed me.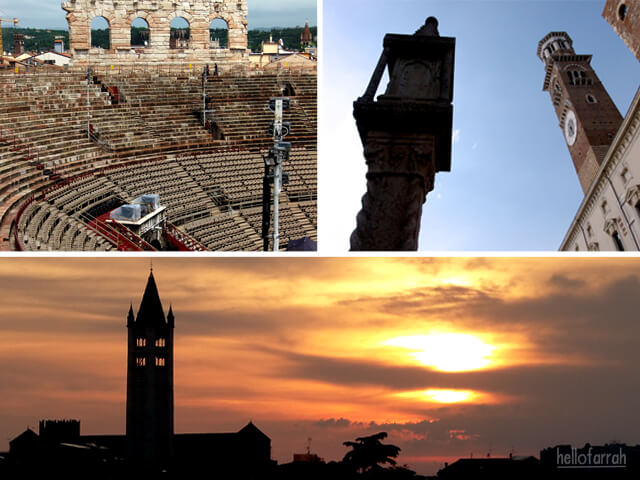 So what would I recommend to do in Verona?
Well, eat. The best restaurants in Verona are the ones you'll find filled with locals- Leone Pizza behind the Arena, RetroBar hidden down some sidestreets- so ip-dip-do your way through the centre until you find somewhere with a terrace, grab yourself a bottle of Bardolino or Soave and challenge yourself to a little game of Man vs Food.
When you're stuffed, go view hunting. Through Verona snakes the Adige River, which we crossed every day. If you climbed up the mini peaks of the foreboding medieval Castelvecchio bridge, you'd get a glimpse of the river winding around the city, and maybe catch a sunset like the one above. Clamber up the Torre de Lamberti (above, top right) and gaze out onto the city.
There's a market on the Piazza del Erbe, which when it's not full of hoardes of school children in matching caps trying to steal ornate face masks, is a delight. Giardino Giusti (below) was probably my favourite place to wile away the hours. There's a maze, which suitably confused the fuck out of me for far too long, gorgeous views and all the beauty a Renaissance Garden should have. Sigh.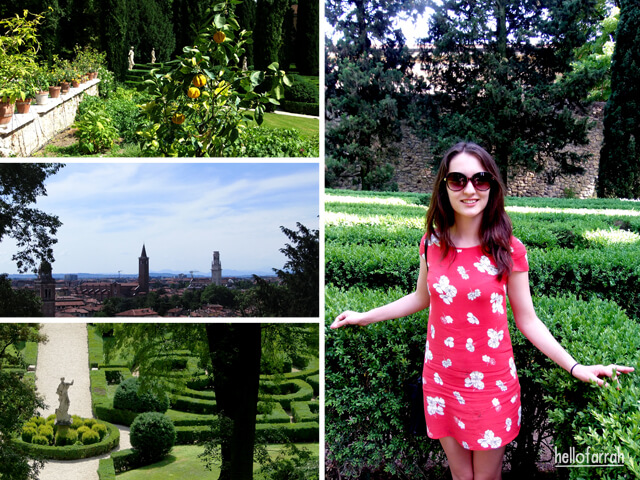 Be warned, it's a very romantic city. Lots of couples gazing into each other's eyes over the last lick of ice cream, lots of very public snogging and candlelit dinners going on at every turn. Made not unbearable, naturally, due to the equally large population of incredibly cute dogs. Couples and pomeranians galore.
Although we still used it as a base to get to surrounding destinations (the big V has excellent and cheap connections with Venice and nearby Lake Garda towns), Verona is not a commuting city. It's it's own destination, and a bloody lovely one at that.