£50 Theatre Challenge is go!
The morning after posting my Theatre Challenge blog, I spotted a free theatre event at Broadgate London by the London Contemporary Theatre group. Big thanks to Londonist who posted on FaceyB about it, would've passed completely below my radar otherwise.
The catch was, in return for free theatre, we'd be sat outdoors. In the middle of October, this wasn't ideal, and would normally have been enough to put me right off. However, a free theatre event popping up in my newsfeed a day after publicly vowing to go to more theatre was too much of a sign to ignore, so I packed my umbrella and a comfy jumper at set off towards Exchange Square.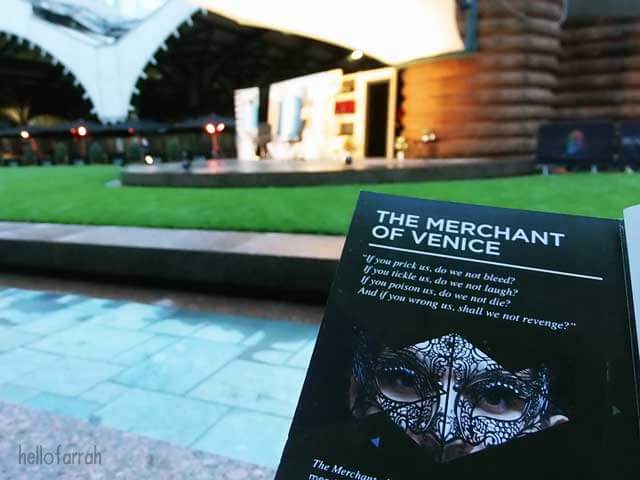 I'm really glad I went. What a show. Seated on the steps, scowling at the people savvy enough to bring along a hot chocolate, the set looked pretty impressive, and the benches were filling out quickly. When the cast came on, you almost forgot you were outdoors, instead transported to a psuedo-Venice to follow Bassanio and pals in his quest for love.
The cast were formidable, with a particular shout out due to Portia, played by Claire Cartwright, who rocked the Shakespeare-sassy-woman to perfection. Even when the weather wasn't playing ball and actors were exposed to the elements, they improvised and incorporated the weather into their act with such ease that I wouldn't be surprised if the rain was actually a stage direction.
I did learn that if you're going to go to outdoor theatre, it's best to try and coerce someone into going with you. It would've been really good to have had someone to watch my bags if I needed to nip to the loo/investigate where everyone else is getting their blankets from. In an indoor theatre, I would've been more comfortable leaving my bag on the side, but in this every-man-for-himself seating situation and with any number of criminal types passing by unwatched, I was glued to my spot from the moment I put my tush down, and, alas, hot chocolate-less.
The only criticism I have is a funny one. The thing with The Merchant of Venice is, well, it's probably the most famous anti-Semitic pieces of literature ever produced. Sure, there's bits in it that preach acceptance- "Hath not a Jew eyes? If you prick us, do we not bleed?"- but for the most part it's an uncontested anti-Judaism fest. Which, as an audience member, is fine- in that you can view the play critically with the context of Shakespearean London in mind. As a passer-by, however, hearing some of the more outrageous one liners- "Certainly the Jew is the very devil incarnation" might be a bit more than you were expecting on your way home from work.
Out of context shocking one liners aside, as there were only a smattering, it really was a great way to spend a drizzly Thursday evening. My alternative was to head home and scroll through Reddit all evening, and this was definitely more fun.
THEATRE CHALLENGE TOT UP: 
Price: £0. (Donation £2)
Remaining: £48
Shows so far: One!